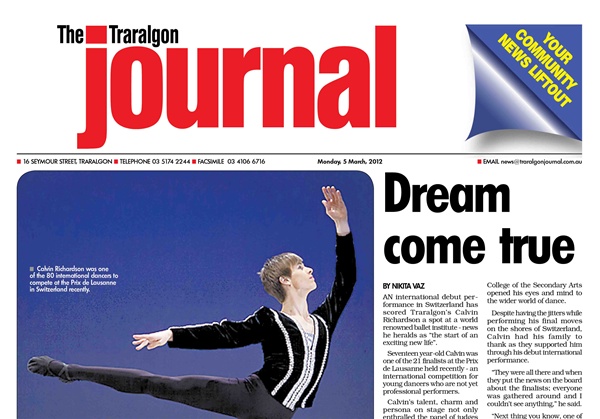 AN international debut performance in Switzerland has scored Traralgon's Calvin Richardson a spot at a world renowned ballet institute – news he heralds as "the start of an exciting new life".
Seventeen year-old Calvin was one of the 21 finalists at the Prix de Lausanne held recently – an international competition for young dancers who are not yet professional performers.
Calvin's talent, charm and persona on stage not only enthralled the panel of judges present, but also caught the eye of ballet institutes across the world, including The Royal Ballet Institute.
"It was definitely the most amazing experience, just being (in Switzerland), in that environment; the networking opportunities present was just amazing," Calvin said.
"I definitely didn't expect to be a finalist because everyone was just so amazing and dancing is so subjective.
"In saying that though, it wasn't something I completely ruled out either, so it was a nice surprise."
Calvin's passion for the performing arts has been alive since the age of five as he joined his two older sisters in a family of enthusiastic performing art lovers.
While tap dancing and jazz were the ballerino's niche area, his enrolment at the Victorian College of the Secondary Arts opened his eyes and mind to the wider world of dance.
Despite having the jitters while performing his final moves on the shores of Switzerland, Calvin had his family to thank as they supported him through his debut international performance.
"They were all there and when they put the news on the board about the finalists; everyone was gathered around and I couldn't see anything," he said.
"Next thing you know, one of them was like 'yep, he made it' and then there was crying and laughing and everyone was just so happy."
Not only did Calvin receive requests for interviews from more than seven international performing arts schools, but he was able to obtain a place at the school of his choice.
Calvin will soon be leaving the comforts of his home in Traralgon after securing a partial scholarship at London's The Royal Ballet School – a school renowned for setting dance training standards worldwide.
"It's going to be a big step for me because I've never been away from home," Calvin said.
"But I'm looking forward to the training, the environment and just that sort of motivation you get from the healthy competitiveness and exposure to different choreography."