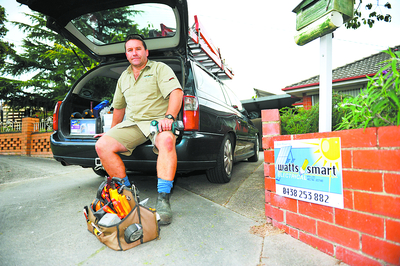 WHEN Churchill electrician Eric Seegers was hired by Kirway Constructions last November as part of a company restructure, he thought it was on track to survive the rough construction industry climate.
"We were all aware there had been a few issues financially; but at least in the (Kirway) maintenance division I worked for, we were all feeling alright," Mr Seegers said.
So it was a "shock" when his boss called him last Tuesday to inform him the company had ceased trading.
"We've all just had a numb acceptance of what was happening (last week)," Mr Seegers said.
While the retrenchment means Mr Seegers will need to get his existing electrical contracting business back off the ground in a "tight market", he said he's not bitter about the circumstances.
"I believe (Kirway) did right by everyone; of course the communication could have been better, but things happened quickly," he said.
"You hear horror stories about employees (elsewhere) getting locked out, fighting tooth and nail to get entitlements," he said, adding he was sure all of his entitlement would be paid.
"I think they've done their best; people that worked there were fantastic – they tried their hardest but just weren't able to make a go of it."
Mr Seegers will now focus his energy on reinvigorating his own "fairly young" business, but with work "getting thin on the ground" over the last two years, the future is far from certain.
"Thankfully we don't have huge amount of house debt, and we've got a little bit of cash reserve," he said.
"But we may have to move out of the area; there's not many opportunities in the Latrobe Valley for my trade; there's quite a few contractors around, but only so much work."