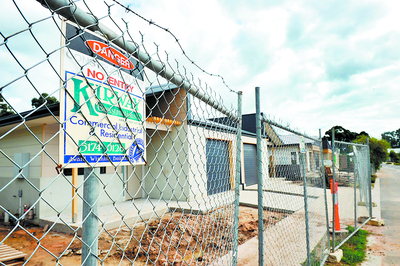 THE Gippsland building industry remains in a state of shock, following news respected local company Kirway Constructions had gone into voluntary administration last week.
The collapse, which saw 49 employees retrenched, and hundreds of thousands of dollars owing to local contractors, had Melbourne-based administrators investigating the company's affairs as of last Thursday.
Three commercial projects, including the Dalkeith Retirement Village project in Traralgon, and nine housing projects remain incomplete and in limbo as a result of the closure.
However as of Friday afternoon, it was unclear as to whether Kirway's contractors and suppliers would recooperate owed monies, with one landscaping contractor owed $250,000.
Flow-on affects from the closure have already begun making an impact, with at least one contractor laying off three tradesmen late last week, while another contractor revealed it was considering similar measures.
Kirway employees, including a workforce of 30 tradesmen, estimators, site managers, accountants, administration staff and two apprentices, were notified of their termination early last week, and were believed to have been paid all entitlements.
Kirway general manager Allan Williams said the company was forced to close its doors by an inability to "secure sufficient new work to operate the company", and could not predict an outcome for business associates through the administration process.
"The assets needed to repay the creditors are tied up by the banks; the assets are the security required to enter commercial contracts in the first place, but now can't be released to sell to repay any debts," Mr Williams wrote.
The collapse comes after the company shed 19 positions in November last year in an attempt to "adjust" the company to continue operating in a "tough construction climate", with the hope of "trading out to a healthy position".
While the company had put a 2012 business plan in place in early January, with intentions to rebrand and venture into the apartment and townhouse markets, Kirway director Ross Clavarino said the release of second quarter financial figures showed any continuation would be unviable.
Gippsland Trades and Labour Council secretary John Parker said he estimated the flow on effects would affect about 100 people in the industry, and the fate of existing contracts left in limbo by administration takeovers would depended on how far progressed each project was.
The collapse also calls into question the fate of the local arm of national home builder Cavalier Homes, owned by Kirway, which had nine uncompleted houses under various stages of construction "scattered across Gippsland".
However, Cavalier Homes (head office) did not respond to calls by time of going to print.
Mr Williams said while a "couple" of clients and contractors were "pretty angry and upset" at the news, he said most people were understanding and "believed (Kirway) had done right by them".
"We've tried as best as possible to deal with everyone; it's just handling everyone with delicate gloves as best we can."
Other unfinished projects affected by the collapse include a Drouin retirement home and a Pakenham nursing home, while the Warrnambol arm of Cavalier Homes, also owned by Kirway, has 17 unfinished housing projects in limbo, according to the Warrnambool Standard.
There are concerns among local contractors about the collapse's long-term affect on the local construction market, which would now be dominated by Melbourne-based companies.
Mr Parker said as the only local building company with mid-level quality assurance accreditation, the collapse meant all future commercial projects in the $3 million to $20 million range would most likely be picked up city-based builders.
"A lot of the work and money would trickle back to Melbourne, who might hire local subcontractors, but will be less likely to buy local supplies," Mr Parker said.
"They'll bring down a Melbourne overseer, but profits won't stay local."
Mr Williams said the collapse was a "sad and awful event", and while first priority was to ensure employees and their families were supported, he expressed particular concern for local suppliers and subcontractors, and the "financial stress" which would flow onto them.