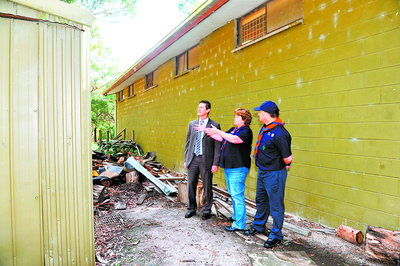 AN unsafe mezzanine area, broken windows and walls defaced with graffiti will soon be a thing of the past for the First Churchill Scout Group, following the announcement of a $25,000 grant to upgrade its facilities.
The hall, which was built about 30 years ago, will soon have a new Venturer den, a new shed and store, and comfortable furniture put in for the 50 members and their leaders who use it regularly.
"We have put the permits in, and work is estimated to start in June and will be completed in about 10 weeks," First Churchill Scout group leader Peta Whelan said.
"We are absolutely stoked with the news; the hall is used four or five days a week.
"The Yinnar Scouts come across too, and we have a lot of big district events here; on Founders Day we have up to 200 people in the hall."
Ms Whelan said the improvements would mean the young adults of the group, the Rovers, could have a more comfortable area to hand out and perhaps grow in numbers from the present 16.
"They don't have much space at the moment," Ms Whelan said.
She said the group would also install a doorway at the back of the hall.
Ms Whelan added the district Scout group was hoping to apply for another grant to build a boat shed on the premises.
In announcing the grant to the group last week, State Member for Morwell Russell Northe said it was "pleasing" the group could have facilities which would "match their enthusiasm".
"The young people who use this facility serve their communities, and they do it so well," Mr Northe said.
"This was a good incentive to ensure members have adequate facilities, to perhaps help attract further (new) members."