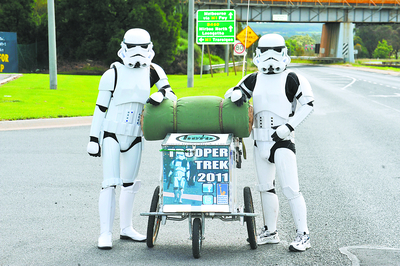 If you thought you saw an Imperial Stormtrooper marching through Morwell on Monday, you probably did.
Twenty-one year old Jacob French is walking from Perth to Sydney, dressed in a Star Wars Stormtrooper costume, to raise money for the Starlight Foundation.
Mr French started his 'Troopertrek' last July, and with only a few weeks break at Christmas, he plans to finish on Saturday, 31 March.
His aim is to raise $100,000 for the foundation and he is well on his way to that goal, with the balance currently sitting at $75,000.
Mr French said the whole thing was a bit of a "Forrest Gump idea", starting out small then somehow turning into a walk across Australia.
"It was something I've always wanted to do," Mr French said.
"I figured I may as well do it differently and raise money for a good cause at the same time."
As a member of international Star Wars costuming organisation, the 501st Legion, a group which regularly visits hospitals to cheer people up, Mr French already owned the costume and understood how it could help draw attention to his cause.
"The 501st Legion dress up in Star Wars costumes and go around to hospitals and places where people aren't feeling too good," he said.
"We just try and give them a laugh for a bit."
For the Moe to Morwell leg, French was joined by Moe 501st member Jimmy McEwan, who fully supported Mr French's project.
"What he's doing is fantastic," Mr McEwan said.
"But I'll leave him in Morwell, that's it for me."
Mr French said the biggest challenge he had faced was crossing the Nullabor.
"The suit isn't very well ventilated – it's really hot," he said.
Unfortunately, soon after talking to The Express Mr French's cart lost a wheel and he was forced to return to Melbourne.
Once repairs are carried out, he will continue along the east coast towards Sydney.
Donations can be made via the website
www.everydayhero.com.au/troopertrek
Mr French can also be followed on social media sites.