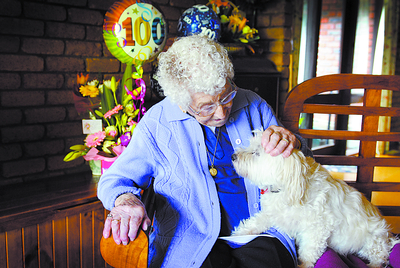 FROM horse and buggy to motorcross side cars, Traralgon's Alice Rodwell has experienced life to its fullest.
Mrs Rodwell, who celebrated her 100th birthday last week, has moved with the times – the use of online video link Skype being the latest of her accomplishments.
She said "hard work, lots of laughs, a smile and a glass of wine every now and again before dinner" helped her reach the milestone.
Stretched back and relaxed within the confines of her Traralgon home, Mrs Rodwell was at first a little perturbed by all the attention surrounding her big occasion.
Mrs Rodwell was even visited by Latrobe City mayor Ed Vermeulen, who sat with her and chatted over a cup of coffee.
While most people barely remember memories from their childhood, Mrs Rodwell's mind boasts of stories from her early years as a two year-old toddler.
"My grandfather lived on a farm… and we lived in cottages," she said.
"When my grandfather passed on the farm to my father… I remember one day toppling a high chair and then I tugged it along and dragged it to take it along with me."
An avid green thumb and animal lover, Mrs Rodwell claims she grew "every vegetable you can name" back on the farm.
Not only did she rear lambs and possums, but even attempted to tame a wild fox.
"(The possum) would sit on my shoulder and at night he would sneak into mum and dad's bedroom and then dad would yell out, 'Alice, come shift this possum out'," Mrs Rodwell said.
Her strong bond with her grandson, Wayne Thomas has only grown stronger over the years, according to Mr Thomas, who fondly described his grandmother as "a real character".
"I remember ma teaching me the value of money… we used to drive down the beach and on our way back collect all the beer cans thrown on the road so we could exchange them (for money)," Mr Thomas said.
"Ma has probably done things that most people haven't done."
"I'm privileged to have this relationship with her – how many can say that they've shared moments with their grandmother for 45 years."
While Mrs Rodwell did not expect to live to see 100, she said living to share more moments with her family would only be an added bonus to a fulfilling life.