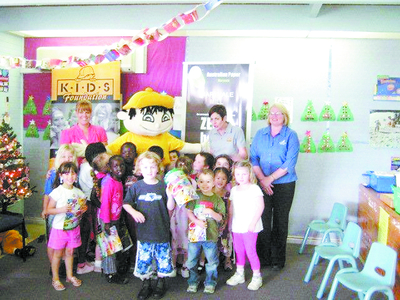 THE global financial crisis may have hit business sectors across the globe, but a children's foundation is keen to keep its program running within the Latrobe Valley.
Kids Foundation – a national provider of school-based education programs have announced the delivery of safety programs will continue across six schools in the Valley despite a drop in corporate sponsorship.
"Statistics tell us that kids in rural and regional areas have more accidents than kids in metropolitan areas so these programs are extremely important," Kids Foundation chief executive Gerrie Carr-MacFie said.
"We want to show kids how to use the freedom they have while being safe."
Ms Carr-MacFie said the program was funded via a variety of sources including corporate funding.
She said despite a drop in corporate sponsorships, Australian Paper Maryvale had stepped in to support the foundation in a bid to continue increasing safety awareness within the community.
"Retraction in funding has directly impacted the delivery of childhood safety education in other parts of Victoria, Queensland and Western Australia but the Latrobe Valley is an exception to the trend," she said.
"We are delighted the successful partnership with Maryvale will continue in 2012."
As part of the safety program the Kids Foundation created fictional character SeeMore, who has been "extremely popular" with children, according to Ms Carr-MacFie.
"SeeMore takes them on a safety journey… and we've published a whole bunch of publications where SeeMore talks about safety at school, at home, on the bike and with a friend," Ms Carr-MacFie said.
"They're interactive stories and gives children, as well as teachers, a new approach to tackling safety."
The Kids Foundation safety program is currently run at St Gabriels, St Vincent de Paul, Hazelwood North, Albert Street, Glengarry and Churchill primary schools.