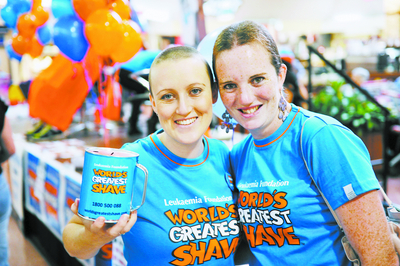 THE crowd gasped and applauded as they watched the hair of friends, as well as strangers, fall from their heads to the ground.
Meanwhile, those up on stage in the centre court of Stockland Plaza Traralgon wore nervous grins as they felt the buzz of the shaver against their scalps, telling themselves it was for a good cause.
As part of the World's Greatest Shave on Friday from 11am, Stockland Plaza Traralgon, the Hairhouse Warehouse as well as local radio station TRFM, pooled together their skills and resources to help raise funds to support the work of the Leukaemia Foundation.
Participants Kristy Thexton and Amanda Parr of Traralgon, displayed their newly-shaved heads with pride.
"My dad was diagnosed with bowel cancer a few years ago, and while it's not blood cancer, I still wanted to show my support," Ms Thexton said.
"I have a few friends who have cancer; I wanted to show my support for them," Ms Parr added.
The two friends have raised a total of $2500 as a team.
"Dad works in Port Hedland in Western Australia, and he and his friends organised a barbecue and raised more than $1000 for us," Ms Thexton said.
Owner and director of Hairhouse Warehouse Traralgon Mark O'Connell said the community event was a "good opportunity" for the business to get involved in a specific community issue.
"We just took over the business in December, and thought we would get on board," Mr O'Connell said.
The Hairhouse Warehouse continued to perform shaves and colours for those who made requests all weekend.
"It's been busy, but we are all happy to be involved," Mr O'Connell said.
As of 1pm on Friday, approximately 12 people had their heads shaved while another 12 had their hair coloured, for a donation of at least $10 and $5, respectively.
Meanwhile, Stockland Plaza marketing manager Adele Nardino said the event was a fantastic show of community support.
"We do support the Leukaemia Foundation, and wanted to get involved to help raise the funds for them," Ms Nardino said.
According to the Leukaemia Foundation, an estimated 49 people participated in this year's World's Greatest Shave from the major towns in the Latrobe Valley.
Last year, 63 people from Traralgon, Morwell, Moe, Churchill and Boolarra participated in the shave.