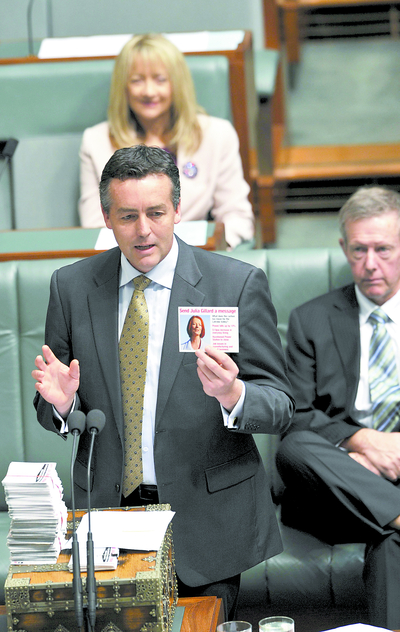 Local year 12 students learned one of Federal Parliament's more obscure rules last week, after Federal Member for Gippsland Darren Chester earned a 24-hour parliamentary ban.
The peculiar turn of events started when Mr Chester interrupted Prime Minister Julia Gillard during question time last Thursday.
"Those of us on this side of the parliament believe our job is to represent the many and want to see the House informed that today I had the opportunity, with the Minister for Industry and Innovation…" Ms Gillard was saying, before Mr Chester interjected.
"How many power station workers are you going to sack? Why don't you stand up for Latrobe Valley workers?' Mr Chester had said.
Speaker of the House of Representatives Peter Slipper quickly asserted his authority.
"The honourable member for Gippsland will leave the chamber under the provisions of standing order 94(a)," Mr Slipper said.
Mr Chester left the chamber, while Ms Gillard did not respond to Mr Chester's interjection.
Within half an hour, Mr Chester was upstairs in the public gallery with year 12 legal studies students from Kurnai College's education precinct.
"Mr Chester came up and met us, and came with us into the gallery for question (time), and they were pretty happy to meet him," Kurnai legal studies teacher Kallitsa Yiannacou said.
But when members of parliament below turned around and looked up at the gallery, Ms Yiannacou said things got "interesting".
"Order! I removed the honourable member for Gippsland from the chamber for one hour. I notice that he is in the gallery in contravention of standing order 94(e); I therefore name the honourable member for Gippsland," Mr Slipper had said.
"It has been pointed out to me that the honourable member was having his photograph taken," Mr Slipper continued, before a motion to 'excuse' Mr Chester from the 'services of the house' was passed 73 to 68, essentially banning him from sitting for 24 hours.
Ms Yiannacou said while seeing the parliamentary process in action was great for the students, Mr Chester's interjection was a highlight.
"For that to happen was bit of excitement for them … a few shook his hand on the way out," Ms Yiannacou said.
In a statement sent out on Friday, Mr Chester said he was surprised and disappointed to be suspended from Parliament under a "little known rule".
"At no stage was I aware that under the standing orders members are not permitted in the public galleries when they have been suspended. I accept full responsibility for my mistake," Mr Chester said.
Mr Chester will not be allowed to sit until after 3pm on 8 May, when parliament resumes for the delivery of the 2012/13 budget.