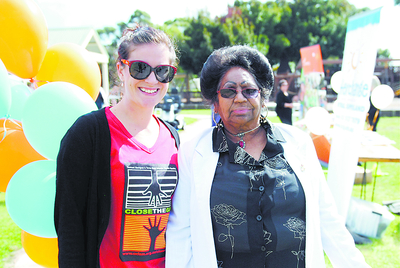 AS the gap in life expectancy between indigenous and non-indigenous Australians hovers as high as 17 years on average, communities in Gippsland came out to lend their support to narrowing the disparity.
At the Morwell Town Common on Thursday morning, a steady trickle of community members to the National Close the Gap Day indicated the day's events were off to a promising start.
"The shorter life expectancy of indigenous Australians is a real concern, and there is evidence to support the fact it can be significantly reduced in the community," Ramahyuck District Aboriginal Corporation's regional Close the Gap coordinator Rebecca Mazengarb said.
"There are measures in place, such as campaigns to reduce tobacco use."
Ms Mazengarb cited statistics from Clean Air Gippsland, an anti-smoking campaign targeted at indigenous communities, which said up to 40 per cent of Aboriginal deaths were related to tobacco use.
"We've also got specific health promotion strategies addressing obesity and nutrition; we're monitoring these strategies closely and changing them to suit the community's needs," she said.
Meanwhile, community elder Auntie Sarah Morgan said events such as Close the Gap Day were important and a "good effort" by all the parties involved.
Auntie Sarah, who lives in Churchill, said it was necessary to minimise the differences in life expectancy, in addition to other areas.
Latrobe City mayor Ed Vermeulen, who was also present at the event, said the recognition reinforced the community's needs as a whole.
"Latrobe City is multicultural and it's essential we don't ignore the needs of the indigenous people," Cr Vermeulen said, adding after East Gippsland, Latrobe had the second largest indigenous population in the region.
Statistics show about three per cent of Latrobe City's population were of indigenous descent, he said.
Councillor Bruce Lougheed said events such as these were of great community benefit and produced positive outcomes from community networking with agencies and service providers.
The day's events included a healthy barbecue lunch, light exercises run by Latrobe Community Health Service, street soccer, boomerang-painting and showbags with frisbees and stressballs.
Health service providers and agencies were also on hand to speak to members of the community on concerns they might have.
There were also Close the Gap events held in Drouin and Sale on Thursday.