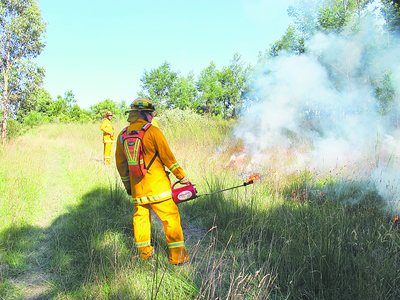 FIRE fighters from Churchill, Boolarra, Hazelwood North, Traralgon South and Yallourn joined forces to conduct a fuel reduction burn in Churchill last week.
The Country Fire Authority, in conjunction with Latrobe City Council, completed a seven hectare fuel reduction burn in Manning Drive, Churchill aimed at protecting homes from fire risks in Latrobe Valley as part of a bushfire prevention program.
"Conducting controlled burning is a very technical operation requiring a great deal of skill," CFA acting manager community safety Gippsland John Crane said.
"In this case, the Manning Drive burn was immediately adjacent to local homes. This makes the fire far more difficult to manage; it also makes the prescribed burn far more valuable to the local community."
The grassland burn on this shire reserve is also the first time the CFA has had the opportunity to burn native grassland anywhere in Victoria this season, according to the firefighter.
"In addition to our bushfire prevention works locally, CFA technical staff from head quarters utilised scientific equipment to collect data on grassland fire behaviour and intensity," he said.
"The critical information gathered at the Churchill burn will be analysed and used to help us better understand and manage grassfires across Victoria."
The CFA will continue to undertake targeted and planned fuel reduction burns in the municipality this autumn.
Mr Crane urged property owners with large amounts of vegetation, bush blocks or neighbours looking to do reduce fuel loads together to phone their local brigade or the CFA regional office to discuss assistance options.
"We are very happy to work in partnership with the Latrobe City Council in assisting them to deliver bushfire prevention treatments across our community," he said.
"We are encouraging everyone the community to have a bushfire survival plan."