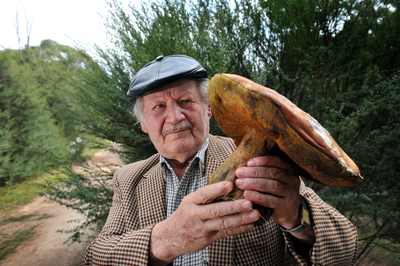 DURING his daily walk around Newborough, Banksia Village resident Joe Varga stumbled across a giant mushroom.
The enlarged fungus was spotted on the Moe to Yallourn Rail Trail which follows the route of the former railway line through Newborough.
"I was surprised when I saw the size of it, I actually didn't pick it up when I walked past," Mr Varga said.
"Then I kept thinking about it on my walk and on my way back I thought 'if I can find it, I will pick it up on my way home'. There were so many there but nothing the size of this one."
Mr Varga identified the large mushroom as Baletus Badius, commonly known as Bay Boletus.
"Normally they don't grow as big as this, that is why it is so unusual," he said.
"Apparently they are delicious eaten raw, but I don't feel like eating any mushroom raw."
Pale, mid brown in colour, the Bay Boletus is commonly found in a mixed woodland habitat. According to Mr Varga, the season was early summer to late autumn. Nestled "not far from the track", Mr Varga said it was the first time he has found something so unique during his daily walks.
National Herbarium of Victoria senior mycologist Teresa Lebel identified the native species as Phlebopus marginatus, or 'giant bolete'.
"There are very few species that produce such large fruit-bodies; it can reach up to 80 centimetres across," Dr Lebel said.
"The few records we have from people who have eaten it say it is very bitter, or if you get young specimens very bland, and caused mild gastro for some."
The find has been added to the Fungimap project which aims to use non-experts to help map the distribution of Australian fungi.
To view the project go to
www.rbg.vic.gov.au/fungimap