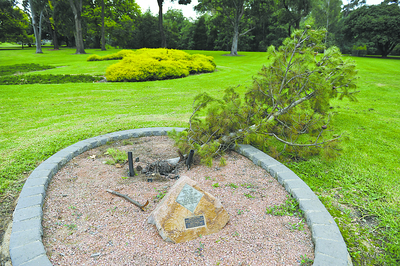 LATROBE Valley residents have described an act of vandalism to a significant tree as "utterly appalling" after Victory Park's Aleppo pine was destroyed recently.
An Aleppo pine has stood on this spot in Victory Park since ANZAC Day 1967.
This species of tree has come to be a commemorative icon for Gallipoli, where troops used a lone pine on a plateau as a marker to measure the angles to their targets.
The tree will be removed later this week but not without a stern warning from Latrobe City councillor Dale Harriman.
"As a community we must make a stand against this sort of mindless vandalism and show the vandals that their actions will not be tolerated," Cr Harriman said.
Members of the public expressed their disheartenment on The Express' Facebook page, with a majority of residents describing the act as "blatant disrespect for our service men".
"Public vandalism is perhaps the worst kind as it touches the very heart of the community… and the significance of the tree, planted while Australia was at war is disrespectful to all who served for this country," David Burt said.
Fellow resident Stacey Zimora described the act of vandalism as having a more personal affect on her family, adding her father, a former Latrobe City Mayor, was the man who planted the sapling in 2007.
"The one planted in 1967 died and that's why this one was replanted in 2007 – It's a disgrace that someone has vandalised it," Ms Zimora said.
Latrobe City Mayor Ed Vermeulen sympathised with the public adding the community had "every right to be outraged".
"That a person or persons could wantonly destroy this tree is incredible," Cr Vermeulen said.
"It is an important tree in our community, in particular to members of the Returned and Services League.
"With this in mind it is difficult to comprehend why someone would want to destroy this particular tree."
Latrobe City Council said a new Aleppo pine tree had been ordered and once received, would be planted in the same spot at Victory Park, Traralgon.