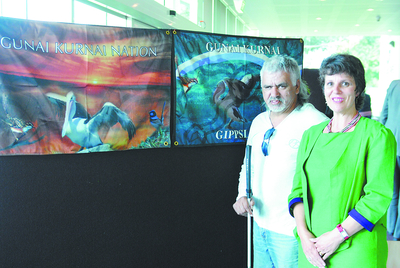 LATROBE City has affirmed its commitment to reconciliation with the traditional owners of the land, with the official unveiling of its revised Statement of Commitment in Morwell on Friday.
The official document was recently signed by Latrobe City mayor Ed Vermeulen recently, and was made public at a lunchtime event at the GippsTAFE Waratah Restaurant.
"(The document) is essentially council's recommitment to the Statement of Commitment," Latrobe City community liveability general manager Michael Edgar said.
"We received community input on what should be included; this statement is a lot more focused and has been endorsed by key stakeholders."
Mr Edgar said consultation with the Braiakaulung Advisory Committee had been valuable.
"This recommitment means we want to continue building our relationship with the Aboriginal people and show we are respectful of them and want to work together," he said.
"The new statement will be displayed in all our service centres; our long-term goal is that we will have a strong relationship and understand each other."
Aboriginal elder and artist Uncle Colin Thomas said the revised statement was "a step in the right direction".
"We reckon our relationship (with council) is pretty good; we hope to make it better."
Uncle Colin also had two of his artworks on display; two flags representative of the Gunai-Kurnai people.
"We have an Aboriginal flag, but I thought we should have (our own) flag, too," he said.
The two flags featured the pelican, and the totem animals of Aboriginal men and women.