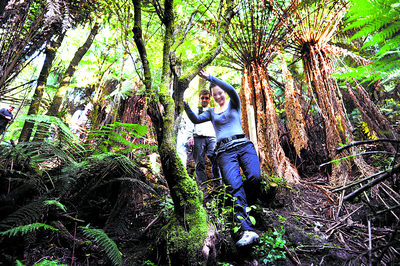 CALLING the Grand Strzelecki Track anything short of "grand" would be an understatement.
Spanning 110 kilometres and connecting two national parks, it is a majestic trail which may give Tasmania's Overland Track a run for its money, according to a regular trekker.
Along with Express photographer Laura Ferguson, I was part of an exclusive team of about 22 people taking part in an inaugural trek of a section of the trail from the Morwell National Park to what is known as Road 4, on the way to the Jumbuck Rest Area.
The little expedition, led by project manager Alan Lewis, kicked off in beautiful conditions on Tuesday morning and comprised hiking experts, shire representatives and local outdoor business proprietors.
The opening of the track could mean an additional $12 million in tourist dollars flowing into the region annually, according to Mr Lewis, representing a huge business opportunity for tourism operators.
A cloud of insect and leech repellant wafted into the clear, still morning air as we undertook a final leech-proofing exercise before embarking on the start of what would have been a five-hour trek.
The track, while moderately easy, featured inclines provoking a reassessment of individual fitness levels, but was delightfully soft underfoot.
Along with lead contractor Kevin Heggan from Hedley Range Services, the contractors employed to clear the walking trail, Mr Lewis filled us in on the background of the track, as well as detailing some interesting finds along the way.
According to Mr Lewis, some 90 per cent of the vegetation was native forest; while parts of the track bordered plantations managed by HVP Plantations, he said the company had under the "Cores and Links" agreement pledged to protect more than 23,000 hectares of native vegetation in the Strzelecki Ranges.
Meanwhile, Mr Heggan, who professes to knowing the track "intimately" (said with a grin and a wink), told us one of the more interesting finds included a stash of beer, believed to be from the 1950s.
While some of the bottles were nearly empty due to evaporation, a number still contained within its depths some reasonable vintage beer.
The brown bottles, embossed with the head of a panther, claimed to be property of the Richmond Brewing Company.
"It's likely the farmer was hiding his stash from his wife for times when he needed a drink," Mr Heggan told us.
The track was also once farmland in the 1920s and 30s; along the way, Mr Heggan also pointed out what he believed was an old saw pit site, with bits of railway line indicating logs were once trolleyed there.
Native flora and fauna are still found in abundance along the trail, with rich birdlife, echidnas and snakes who may now have to share their habitat with up to 250,000 people who visit Victoria's national parks each year.
Unfortunately for this roving reporter, our one-and-a-half hour trek of the first section came to an end all too quickly as we separated from the rest of the group at Road 4.
If the sampler of the track is anything to go by, and we are sure it is, the Grand Strzelecki Track promises to be a fantastic experience for locals and tourists alike.
We know we cannot wait to go back – and best of all, it is located right in our backyard.