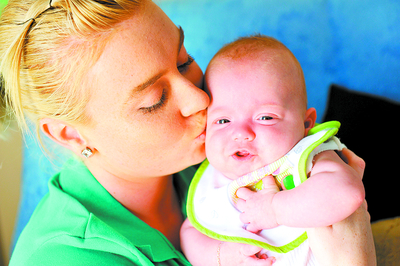 Shock and fear overcame Bianca Patton when she first saw her 797-gram daughter in an incubator.
After going into labour 15 weeks before her due date, doctors and nurses told her to "hope for the best but prepare for the worst", warning Bianca her newborn may not survive.
Little Maleah Patton however, beat the odds and nearly six months later is known as the "little fighter" in the family.
Her survival inspired Bianca to don the colour green yesterday, in a bid to raise awareness about 'Wear Green for Premmies' – a day set aside to celebrate the survival of children born early.
"I had a lot of support from friends and family and that support meant so much to me," Bianca said.
"I just wanted to put that gratitude out there and do something to support mums and dads who may not have the support I did."
While the birth of Maleah did change life for Bianca, she added she "wouldn't change any of it for the world".
Bianca's acceptance of the roles and responsibilities of motherhood, and caring for a premature baby inspired confidence in her own mother, Sue Patton, who said she was "extremely proud" of her daughter.
"It's not a normal pregnancy when you give birth to a premmie… Bianca herself nearly died, her blood pressure dropped… it's a lot to go through," Sue Patton said.
"Until you're there and you go through it, you will never know what it's like."
The mother and daughter duo recently raised $400 in two weeks by selling their 'premmie-friendly shirts', which will be distributed to a Gippsland premature baby group.
Maleah's fight for survival has ignited Bianca's passion to highlight the importance of getting more people on board to support parents with premature babies.
"It needs to be recognised that there are a lot of parents who go through hell looking at their baby have injections and needles, and go weeks without being able to hold their baby," she said. "I want to make everyone aware."