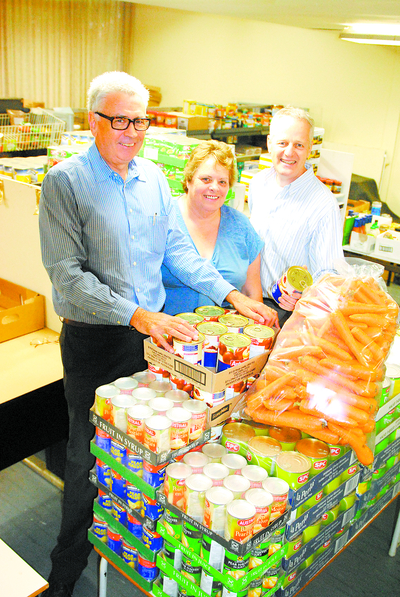 LOCAL Foodbank agencies are, collectively, feeding thousands of Latrobe Valley individuals and families each month.
The independent charity has experienced a massive growth in demand statewide in past years, forcing it to increase its provision of food from 2.7 million kilograms in 2008/09 to 4.7 million kilograms in 2010/11.
On a tour of the Valley's agencies and food centres recently, Foodbank Victoria chief executive Ric Benjamin and chairperson Alan Williams told The Express while the Valley was not experiencing the sort of peak increase in demand like the Goulburn Valley faced, following its factory closures and mass job losses, its struggling residents instead faced a severe lack of housing availability, in some cases forcing them to sleep in cars.
Foodbank Victoria provides 100,000 meals to people in need each week, through 600 agencies.
There are six agencies in the Valley and peak months can see volunteers at some of those agencies feed more than 800 people.
Mr Benjamin said events in Gippsland had not grabbed the headlines seen elsewhere in Victoria but its "underlying story of disadvantage" had been more recently exacerbated by fallout from the 2009 global financial crisis, drought, floods, bushfires, the high Australian dollar and a manufacturing decline.
The region's previous availability of low-cost housing had now "dried up" and though Mr Benjamin commended the Gippsland community on its "wonderful openness to new communities" he said this also bought "new stressors" which required support, yet there was "always a lag".
He anticipated the end of various welfare assistance initiatives, which had helped "prop up" the incomes of struggling families, including the stimulus package, baby bonus and bushfire recovery relief, would also impact on local needs. Add that to the increased cost of necessities including energy and petrol and "some people just can't negotiate that," Mr Benjamin said.
He was keen to dispel misconceptions of people "taking handouts" from the Foodbank and claimed there was a "reasonably small constant" among the service's clientele.
"For the rest, it is about needing some help for a few months…the image of people 'taking' is not real, we provide support and people have dignity, they don't want to have to rely on us," he said.
Testament to this is the large number of volunteers "at the coalface" running local agencies, many have once required the Foodbank's support themselves.
"We feel very humble that, at any of our agencies, we provide the food but these people provide the interface," Mr Benjamin said.
For every two paid Foodbank workers there were nine volunteers, he added.
Food, "the universal language of hospitality", was also a critical means of connection between volunteers and clients, often seeing those in need being linked in to other relevant support services.
"At each agency if it is recognised that someone is struggling with other issues, such as sexual violence or addiction, they can be linked into other support agencies or counsellors," Mr Benjamin said.
The Foodbank works with manufacturers, retailers and wholesalers to obtain both fresh and tinned product as well as laundry and personal products.
If product is nearing its use-by date or not considered to be "for premium sale", Mr Benjamin said "we want it because we can get it out there in time".
Fruit and dairy is often obtained from "the farm gate" and "might not quite fit the criteria for a supermarket but it is still as fresh".
Some manufacturers make product specifically for the Foodbank as part of a 'collaborative supply' arrangement where numerous suppliers donate different elements of a product, from ingredients through to labour, factory time and packaging.
"Three years ago 40 per cent of our product distributed would make a meal, now it is over 60 per cent because we can guarantee product availability," Mr Benjamin said.
That development has also contributed to the rise in demand "because we can get more food out now", he said.
The organisation continues to diversify its service in various ways. It encourages the maintenance of vegetable gardens in schools, drawing on the volunteer support of university students and has introduced cooking programs to its client base. "This is not a hand-out, it is a hand-up," Mr Benjamin said.