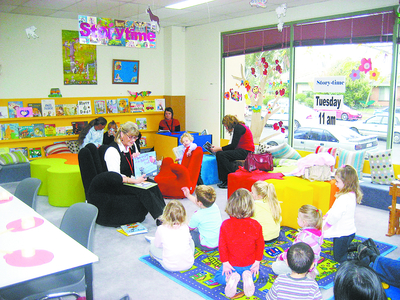 CHILDREN are being encouraged to pick up a book and join their local library following the launch of 'Victorians Love Libraries'.
Run by the Municipal Association of Victoria and Public Libraries Victoria Network, the program is part of the National Year of Reading.
Latrobe City manager community information services Julie Kyriakou urged more residents to take advantage of library services.
"Libraries are much more than just books, we see them as community spaces and actively work to ensure they cater for the needs of the community," Ms Kyriakou said.
"The beauty of libraries (is that) they fill the needs of their communities and offer flexible spaces that can change as needs change.
"Previously libraries have been seen as mainly book places and the development of personal computers and the internet could have resulted in a decline of public libraries.
"This hasn't happened and libraries have embraced this new technology and have made our own space within this field."
Currently, about 30 per cent of Latrobe City residents use the service which is below the state average of 48 per cent.
"(It is) something we are actively working on increasing; we know our libraries are well used by non-members to access the daily newspapers, attend story time or other activities, and for many as a place to visit and catch up with others," Ms Kyriakou said.
However, she said figures were not concerning.
She said low membership numbers could be attributed to people "losing touch with the library" during early adulthood.
"We have a strong connection with children as they attend our story time program or use our online tutoring program and we have strong connections with our older community who access the library regularly," Ms Kyriakou said.
"Often people in the middle years feel they have less need of the library as they can access information via alternative methods."
She said the aim of library services was to target residents' needs.
"This access allows people to search for jobs, undertake additional education or connect to families through social media.However, more residents should take advantage of support services such as the YourTutor which has been on offer for four years," Ms Kyriakou said.
She said the online, one-on-one academic support was targeted for students in years four to 12 and covers some technical and further education work.
Supporting the future of libraries is the Libraries Ministerial Advisory Committee, which is conducting a landmark bi-partisan review of Victorian library services and funding arrangements.
Local Government Minister Jeanette Powell said libraries were essential community infrastructure which brought the community together and provided "unrivalled free access to knowledge, information and entertainment".
To see the list of services on offer at Latrobe City libraries go to
www.latrobe.vic.gov.au