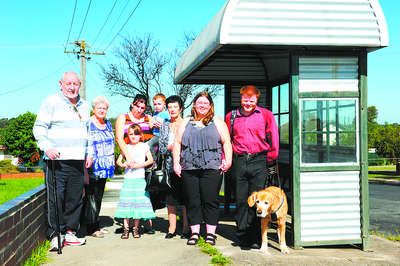 A REPORT released by the Department of Transport has been slammed by Latrobe Valley bus commuters who continue to fight against the changes recently made to the services.
Four months after the changes to the bus timetables were initiated, Valley residents continue to struggle and are demanding answers from the Department of Transport.
The department recently released its annual transport survey in which State Transport Minister Terry Mulder said "The Latrobe Valley's overall score of 79.9 was excellent considering the survey occurred prior to the Coalition Government's recent major improvements".
Statements made in the report however, have been criticised by a majority of the region's disabled residents as "completely untrue".
"The new bus stop is 497 metres away from my house whereas the old one was 200 metres away," Traralgon resident Andrea Sherry said.
"We had no indication of what these changes were going to be… they talk about how they organised group (consultation), but what about resident participation or consultation with us?
"Their attitude is 'it's down and dusted so deal with it'."
The inconvenience faced by Ms Sherry is also faced by fellow Traralgon resident Phillip Chalker, who raised his complaints with Blind Citizens Australia.
According to BCA Victoria acting advocacy and information officer Lauren Henley, a lack of consultation displayed a "a lack of understanding" on the department's part.
"Nobody was consulted so this means the Department of Transport has no clear understanding of who uses the services," Ms Henley said.
She added residents who were vision impaired also found the department's website "not easy to access" leaving them unable to access the new bus timetables, hinting at the possibility of some residents lodging their case with the Human Rights Commission.
Valley resident Shirley Sprynskyj, who has championed the cause of her neighbours in their fight to bring back the old services, said she was "frustrated" with the department's "pathetic responses".
"They continue to fail to explain why after more than 40 years they shut down the old services," Ms Sprynskyj said.
In a letter to Mr Mulder, she stated "the denying of an existing service under the banner of efficiency is not a vote catching exercise".
Mr Mulder's response however, failed impress Ms Sprynskyj after he stated in his letter her feedback "will be forwarded to the planning team in the event of any further reviews".
Public Transport Victoria has reiterated its stance on the matter after a spokesperson in a statement informed The Express catering to Latrobe Valley's significant population growth meant "new residential developments had good access to bus services".
The statement further said "extensive consultation was undertaken… and completed in 2009… with bus stops located within 400 metres of most residential areas".