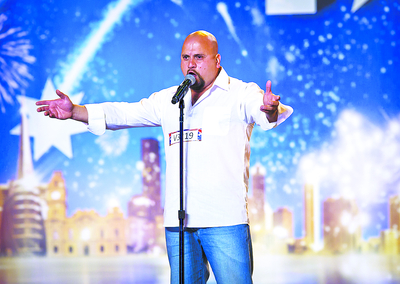 AFTER surprising an esteemed panel of judges with his "raw talent", Traralgon's Boris 'Boz' Anjalovec will perform on popular television show 'Australia's Got Talent'.
A senior bus driver at Latrobe Valley Bus Lines, Mr Anjalovec's hidden singing talent has only been witnessed by a few friends and family members at various social events.
"I always felt inadequate; it's taken me quite a while to come out of my shell," Mr Anjalovec said.
"I was a shy kid embarrassed about what I could sing and kept it to myself.
"Every now and again I would throw a note or two and people would go 'oh wow! you can sing'."
The opera sensation was persuaded into applying for the talent show by friends and family, and was "extremely surprised" when he got a call from the company giving him the green light to perform before judges.
After being turned down at an 'X Factor' audition, Mr Anjalovec was encouraged to "surprise" the Australian audience with his booming tenor voice.
"The wife was busting my chops asking me to do something and then people at work got on the bandwagon so I thought I'll apply only to show these people up," he said.
"I never imagined I would get a call. I was driving the bus when (the company) called so I pulled over and when they said 'congratulations, you've got in', I had these tingly feelings all over my body."
Mr Anjalovec said despite being a nervous wreck, he was keen on being an 'Australian Susan Boyle', adding his main aim was to "try and have a good time".
"Obviously everybody wants to go till the end, but I'm just trying to go with the mindset that it's a great opportunity for me," he said.
"When I take it from that angle it relaxes me a lot more.
"I'm taking it seriously, but not too seriously at the same time."
With the world as his oyster, Mr Anjalovec concluded he was keen on taking his talent further, hinting at the possibility of pursuing a future in the music industry.
Mr Anjalovec will appear on tomorrow's episode of Australia's Got Talent on PRIME7 from 7.30pm.