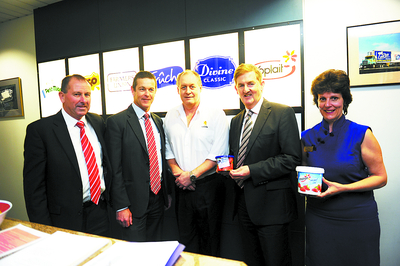 A Morwell dairy processing facility has become the latest recipient of State Government industry funding, landing $490,000 for electricity infrastructure upgrades.
Lion Dairy and Drinks, formerly known as National Foods on the Princes Highway, attracted the funding through the $10 million Latrobe Valley Industry and Infrastructure Fund.
The funding will contribute to a $2.64 million project constructing 11.5 kilometres of underground cabling, increasing the facility's electrical capacity for further expansion.
The funding comes after the company spent $55 million upgrading its facility as it phased out production at two alternative factories, and it plans to introduce $10 million worth of upgrades across three separate projects over the next 12 months.
Speaking to more than 50 employees onsite on Friday, Deputy Premier and Regional and Rural Development Minister Peter Ryan told workers the funding was primarily designed to secure jobs, amid "a lot of talk and rhetoric that goes around about supporting local businesses".
"The project, which will create at least seven jobs and retain a further 10, will secure Lion as a key industry employer in the Latrobe Valley," Mr Ryan said.
The 15 year-old business produces a range of dairy products from Gippsland sourced milk, and employs 162 people, 200 including contractors.