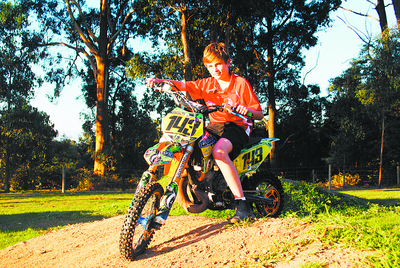 Sailing over a 90-foot jump on a motorbike is a fairly standard trick for 12 year-old Patrick Ceh.
Although he said it was fun, the motocross rider admitted he still got nervous.
"Most of the time it's okay, but sometimes I get a bit scared," Patrick said.
Patrick first rode a motorbike when he was three years old, and started racing motocross four years later in the 65cc class.
This year he added the 85cc and dirt track riding to his list of events.
Patrick said motocross involved jumps and corners, whereas a dirt track was flat.
He said his 85cc bike was "much bigger and faster" than the 65cc, and at this stage he preferred motocross to dirt track.
"I like the speed and the jumps in motocross," he said.
According to Patrick's father Adrian, over the past 18 months he has accumulated so many trophies they no longer fit in his bedroom.
"Now they're all over the house; he just keeps getting better and better," Adrian said.
Last year Patrick was the overall winner of the Gippsland Series in the 65cc class (nine to 12 year age group).
This year he is on his way to defending the title and is currently placed first after a victory two weeks ago.
He is also leading the club championships in the 65cc class at the Nunawading and District Motocross Club.
Motorbikes are an all-consuming passion for the family, as they spend most weekends travelling across Victoria to compete in the various series Patrick has entered.
Adrian estimates the family has spent about $10,000 this year on Patrick's motorbike endeavours and they were not even half way through the season.
"At the moment he's doing the Victorian series and the Gippsland series in motocross, and in dirt track he's doing the Victorian titles and he'll go to the national championships in July as well as the Australian long track championships in September, so it keeps us busy," Adrian said.
Later in the year Patrick will also contest the Junior Motocross National Championships in Queensland, and he said he would hopefully "get the chance to see some of the theme parks".
When asked if the sport was as dangerous as it looked, Adrian said it was.
He said last year, Patrick broke his hand during a race, which he went on to finish, and in another event a boy in his age group was rendered a paraplegic after falling off a jump.
"As a parent you worry a little bit, but I used to race so you get used to it," Adrian said.
"Tracey (Patrick's mum) can't watch though – she gets really nervous."
Patrick's next race will be in two weeks at Outtrim where he hopes to extend his lead in the Gippsland titles.