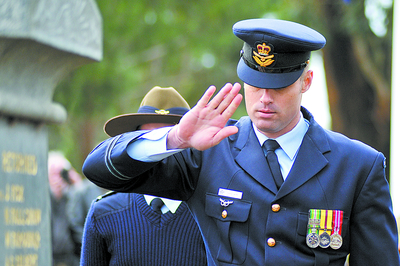 RESPECT for the "supreme sacrifice" of Australia's war veterans was evident among the crowd of hundreds who gathered at Glengarry's cenotaph yesterday.
Young children joined parents and grandparents – many with medals proudly on show – to pledge their support for the Anzac Day tradition. Layered in beanies and jackets to ward off the chill they heard poetry, hymns and prayers while the force of their numbers proved the Anzac Spirit was in no danger of dimming.
Australian Airforce Flight Lieutenant Shane Mann addressed the crowd, reading from a 1915 newspaper article, giving an eyewitness account of the day 20,000 Australian soldiers landed in the dark in Gallipoli to commence a ferocious eight-month long campaign which claimed 10,000 lives – 2000 by the end of day one.
The meaning was not lost on Glengarry's young, with local cubs and scouts speaking of their respect for the diggers.