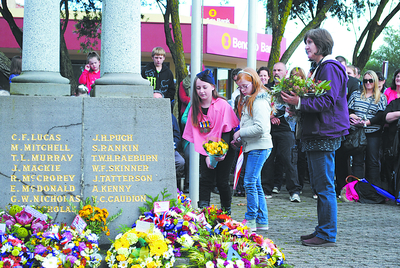 THE sight of Trafalgar residents Jack Cooper and Jay Kelly making their way to the town cenotaph to lay a wreath in remembrance of fallen soldiers was a heart-warming one.
Young, strong and solemn, 13 year-old Jay lent his support to his great-grandfather, a former prisoner of war of the Japanese in Singapore during World War II.
"When he asked me, I said I was honoured to do it," Jay said shyly, adding he did a reading at last year's Anzac Day Commemoration Ceremony.
"I feel sad hearing about all these people who lost their lives. I have been thinking about joining the army when I grow up, to fight for my country."
Trafalgar-Thorpdale Returned and Services League president Ray James, a former Vietnam veteran himself, said the crowds at this year's services had been significant.
"We had about 200 people at our dawn service, and nearly double that for our morning service."
Mr James encouraged the public to pause and pay their respects at any town cenotaph bearing the names of fallen soldiers, regardless of the time of year.
"Twice a year is certainly not enough," Mr James said.
"When we pay our respects at the cenotaph, we have our hands over our hearts, our medals; this is because the medals we have just pale in comparison to the ultimate price they paid for us."