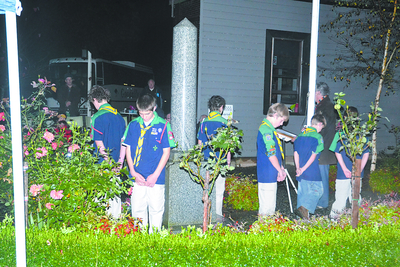 THE firing of the historic cannon set an eerie atmosphere at the Walhalla Anzac service which paid tribute to Australian service men and women.
More than 100 people braved the chilly weather to pay homage to the fallen Anzac heroes during the emotional dawn service.
Huddled around the town cenotaph, master of ceremonies Barrie Seear read "The Unknown Soldier" and a moving letter from Walhalla resident Lionell Gloz when he was on leave from the war in England in 1917.
The Walhalla tradition began 30 years ago, when resident Simon Seear asked his father to join him in prayer to commemorate soldiers' sacrifices. It has since grown to attract hundreds of people from the district every year. For 11 year-old 1st Mountain Rivers cub Neysa Nelson, the Walhalla Anzac service was the largest event on her calendar (who promised to never miss a service).
Neysa said it was an opportunity to show respect to her great grandfather and great-great grandfather who fought in the war.