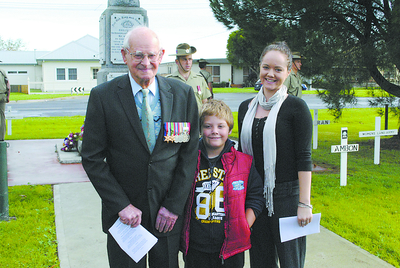 FOR, David Nutt, the master of ceremonies at the Anzac Day Commemoration Ceremony in Yinnar, this year's Anzac Day was especially significant.
Not only has Mr Nutt, a retired WO2 warrant officer, just completed serving 23 years in the army, this is the last Anzac Day he will share with his father Gordon Nutt, who was in the 39th E and M squad of the army reserve.
The elder Mr Nutt, who also celebrated his 65th birthday yesterday, will soon be relocating overseas.
"Our family comes from a long military tradition," Mr Nutt said.
"My father was a British Merchant marine, and coincidentally his birthday was on Remembrance Day."
Mr Nutt said Anzac Day always stirred a "whole range of emotions" for him, especially thinking of his mates serving overseas. The family tradition was also well and truly alive with Morwell Returned and Services League president Bruce Jeffrey's daughter, Major Wendy Jeffrey, taking the stage as guest speaker.
About 300 members of the public from Yinnar and district huddled together against the cold wind during the morning ceremony.