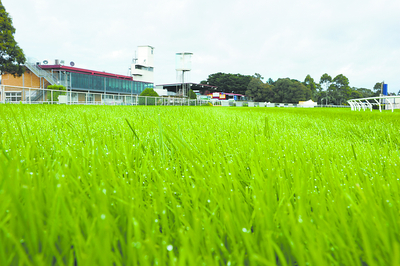 Thirty minutes after clearing the Moe Racing Club's track for racing on Anzac Day, Racing Victoria Limited announced the meet would be moved to the all-weather track at Geelong.
The announcement was made late Tuesday afternoon and according to an MRC press release, RVL moved the meet because "it would be in the best interests of participants" following rainfalls on Tuesday and forecast rain on Wednesday.
Moe Racing Club's chief executive David McKinnon said he was disappointed with RVL's actions, which he believed were a symptom of the industry becoming "gun shy" due to a recent decrease in gambling turnover.
"The industry's main concern is getting a product on the television that people can bet on because that's how the industry is funded," Mr McKinnon said.
"Not that long ago, once a course was cleared for racing they would never have even contemplated a transfer, but now they're doing it."
"If there's a slight chance of cancellation, they'll move it."
Moe Racing Club's sales and marketing manager Marnie Ballard said the club did everything it could to get the message out about the transfer.
"We notified all the media outlets we could – radio, television and newspapers," Ms Ballard said.
"We can't change the website because it's controlled by RVL, but we tried to contact all the people who booked hospitality services and just do what we could."
The club has experienced eleventh-hour cancellations in the past, most notably in 2009 when the Moe Cup was transferred to Cranbourne in similar circumstances.
Since then, the club has installed a new drainage system and recently spent $50,000 re-sewing the track, however Yinnar trainer Allison Bennett believed the track had far deeper problems that could not be rectified by a re-sew.
"There's no way the roots on that track are long enough to sustain a pounding of horses in wet weather," Ms Bennett said.
"They haven't given it enough time to grow, it's just a case of overuse and not enough maintenance.
"To get that track up to scratch they'd probably have to rip the whole thing up."
She said she was concerned about the track's ability to withstand the forecasted rain after she rode in a barrier trial last week.
Moe trainer and trainers' representative to the Moe Racing Club Michael Templeton, admitted there were some concerns following last week's trial but said the issues were dealt with by curator Brad Knott.
"There was some concern that the track was too soft on top, but I met with Brad last week and the solution was to roll it twice which he did, once being Tuesday morning," Mr Templeton said.
"When we walked the track (Tuesday morning) it was a dead five, and it was graded by the steward in the afternoon at a dead nine which is well within RVL's limits."
By noon Wednesday, many horses had been scratched and in some races, more than half the field had been pulled out.
Mr Templeton said it was because many local trainers "couldn't make the trip to Geelong" and that coming into winter, most trainers had horses prepared for wet tracks, not the hard surface at Geelong.
Conceding some of the cancellations at Moe were due to poor course management, Mr Templeton agreed with Mr McKinnon that this cancellation was due to the industry's need for gambling revenue.
"In some cases an inexperienced curator has probably cost them, there's no hiding from that," he said.
"But this time I don't think it was anything to do with management; it's the RVL wanting to secure revenue through betting."
According to Mr Templeton, cancellations were becoming more common around Victoria and he accused RVL of "transferring races at the last minute" rather than "looking for a solution".
"Every region in the state should have two summer tracks and two winter tracks," he said.
"If you didn't water the winter tracks during summer, they would be able to cope better with a good drenching over winter.
"That's what happens with the four tracks in Melbourne and it works, but the RVL don't seem to understand that."
At the time of printing RVL was not available for comment.