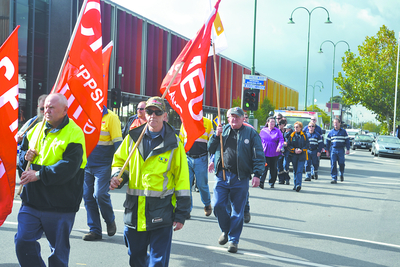 WORKER safety continues to be compromised across the power sector, as it faces ongoing restructures, maintenance cutbacks and future uncertainty, according to industry unions.
That was the warning heard by a gathering of Latrobe Valley workers on Friday, who marched the streets of Morwell in honour of fellow workers worldwide injured and killed on the job.
Organised by the Gippsland Trades and Labour Council for International Memorial Worker's Day, members of power industry unions, emergency services, and local industries heard sobering stories of fallen workmates, and stern warnings for diligence in occupational health and safety (OHS) in a climate of uncertainty and cutbacks in the power industry.
Speaking to a crowd of about 40, Construction Forestry Mining and Energy Union organiser Toby Thornton said the event's paramount importance should have attracted more than 200 people.
"The power industry is facing a challenging time during all this uncertainty … and the fact is, safety is sometimes taking a back seat, but it should be number one priority," Mr Thornton said.
He said there were increasing trends of 'pyramid contracting' in power station outage contracts, in which OHS procedures lost their immediacy through degrees of separation as contractors employed subcontractors.
"Who's their safety reps; how are they going to ensure OHS is followed? We must have a good foot-soldier on all floors handling safety," he said.
Australian Manufacturing Workers Union organiser Steve Dodd agreed power station outages were a period of particular concern for the safety of Valley workers.
"The pressure's on when there's an outage; it's outside of normal circumstances, where getting the plant back online as quickly as possible is on everyone's mind; workers are putting in some extreme hours, and that's when fatigue starts to set in," Mr Dodd said.
He said the current Loy Yang A fatigue policy still allowed contractors to work 13 10-hour shifts consecutively, and were only required to take a single day off.
A spokesperson for Loy Yang Power said such hours could only be achieved if adequate control measures had been implemented, and the company was committed to maintaining a safe workplace.
GTLC spokesperson Anne Murphy gave a sobering account of her experiences of workplace deaths, having lost her uncle in a construction site crane collapse, and her father only days before his retirement.
"The rate of Australian workplace deaths are higher than the road toll, but which one do we keep hearing about all the time?" Ms Murphy said.
"To lose a family member unexpectedly completely pulls the flooring out from underneath you; it has a profound affect with mental scarring – prevention of workplace deaths are paramount."