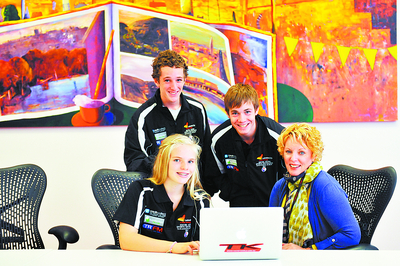 THE sister-city bond between Takasago, Japan and Latrobe City has been strengthened following the recent Traralgon Judo Club trip.
As part of the Latrobe City Council sister-city program between Japan and Taizhou, China, it invites junior sports association members to visit the countries as a cultural experience.
Traralgon's Matt Delaland said it was an incredible experience learning about the Japanese culture.
Matt said one of the challenges of the trip was a Judo training session with a local club which was "two and a half hours of really intense training".
Batted and bruised following the session, Matt said he discovered the respect of the Japanese culture and the power of concentration which inspired him to continue Judo.
The cost of the sister-city delegations exceeds $50,000, which Latrobe City funded $25,000 and the shortfall was covered by fundraising and individual contributions.
Latrobe City sister-city delegate and councillor Lisa Price said the benefits of the youths' experience was "difficult to put in to dollars".
"The day we were leaving Takasago we had a boy come up and say 'can't we just stay one more night?'; here is a 15 year-old boy who has had the most amazing experience that he doesn't want to leave, that is what it is all about," Cr Price said.
"That experience is going to stay with him for the rest of his life, it is life changing for these kids."
However, the exchange was not only sport orientated with Cr Price, Latrobe City protocol officer Jason Membrey and interpreter Jie Liu attending the trip as facilitator during meetings and events.
"We met with Nippon Paper who have an office in Osaka, that was to continue that relationship and extend any opportunities for us to assist them in any way to ensure that as a major employer in Latrobe Valley, they stay," Cr Price said.
"The fact they have really strong relationships with the city and we have strong ties with Japan, all goes a long way because for the Japanese it is all about relationships."
Further meetings were conducted between Japan and the State Government, discussing company investment opportunities between the countries.