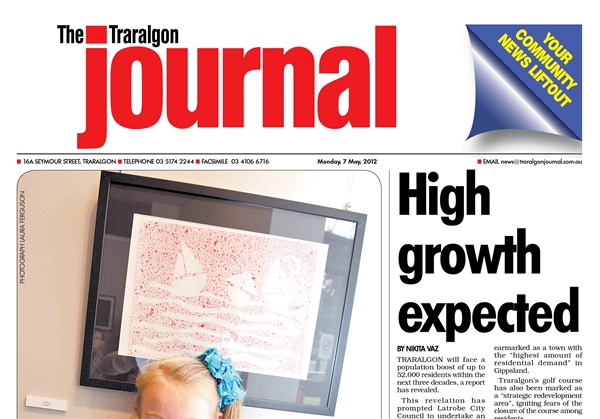 TRARALGON will face a population boost of up to 52,000 residents within the next three decades, a report has revealed.
This revelation has prompted Latrobe City Council to undertake an extensive analysis into the future of Traralgon's urban structure.
Glengarry and Tyers, which currently have low urban dwellings, are expected to become urban hubs of residential dwellings.
Latrobe City Council recently released a draft of its Traralgon Growth Areas Review – a report that could pave the way for the future of Gippsland.
"This is a long term vision to meet expected population and economic growth," Latrobe City senior strategic planner Swee Lim said.
"We want to ensure Traralgon has enough space for the future where growth can occur."
According to the report, it is expected household growth is greater than population growth rates with Traralgon earmarked as a town with the "highest amount of residential demand" in Gippsland.
Traralgon's golf course has also been marked as a "strategic redevelopment area", igniting fears of the closure of the course among residents.
However, at a public meeting with residents held in Traralgon recently, council alleviated those fears saying it had no plans of "using the golf course to develop houses now".
"This plan is not saying the golf course has to leave," Latrobe City manager city planning Chris Wightman said. "We're saying, should the golf course move out of the area in the future, then it will be used as a residential re-development area."
The meeting which was held in light of the release of the draft growth areas review attracted an audience of more than 100 residents, who raised concerns of future subdivision, buffer zones and a lack of larger lots.
Mr Wightman who addressed the audience present said two parcels of land east of Traralgon and a single parcel west of Traralgon had already been subdivided for future residential growth.
He said with the recent land rezoning implemented by Latrobe City, landowners would have to continue to abide by current council policy frameworks.
Mr Wightman concluded by keeping in mind the rise in population growth, Latrobe City would aspire to consist of urban dwellings which are a "mixture of town houses and larger dwellings" in the future.