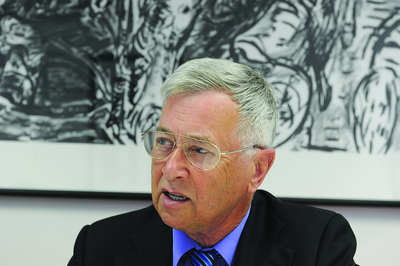 LATROBE City Council has formally asked governments to show a "positive bias" to the Latrobe Valley as the region seeks to offset the potential loss of 2000 jobs in its transition to a low-carbon economy.
Council unanimously adopted its submission to the Directions for a Latrobe Valley Transition discussion paper this week, amid some concerns the document, though a "step in the right direction", still lacked specific detail on future job opportunities.
The document responds to calls from the Latrobe Valley Transition Committee for input into its 'directions' discussion paper.
Council's submission is more detailed than the LVTC's own document, evidence it had "been in this space since 2009" and was already "well ahead of the state and federal governments" on such issues, Latrobe City Mayor Ed Vermeulen told The Express.
The submission called for a $70 million Jobs Fund to "replace the 2000 jobs that are expected to be lost through 'contract for closure'".
It said this money could represent the Federal Government's contribution to the Latrobe Valley Advantage Fund and would be "used for employment creation".
It also pushed to see Invest Australia and Invest Victorian prioritise the Valley as the "number one investment location in Australia for a period of five years for all relevant and appropriate in-bound investment opportunities".
When asked whether the Federal Government's insistence on 'competitive processes' would block that action, Latrobe City manager economic sustainability Allison Jones said "there is a very strong argument for us being a priority".
"When you have the federal and state governments playing economics and they have said, by their own admission, we will be the most affected then you have to do something different here," Ms Jones said.
Cr Vermeulen agreed, saying "our case for being a priority is inarguable".
The submission also formally calls for action on numerous development opportunities already identified in council's 'Securing Our Future' document.
This included $5 million for infrastructure on Morwell's former Lurgi site, $10 million for the Gippsland Logistics Precinct, funding for a Latrobe Regional Airport expansion, brown coal and energy research grants and expedited brown coal-related projects.
The submission also continues to advocate for $450,000 over three years for 'Carbon Assist' officers at Latrobe City and about $300,000 for a Social Impact Analysis of the carbon tax impact on the Valley.
Council has raised these projects with the Federal Government already but said so far neither had secured a funding commitment.
Council also called for the development of an Accelerated Business Growth Program, to develop the businesses of up to 15 "high performing" Valley-based businesses.
"We are talking about smart, medium-seized businesses which seek to grow," Ms Jones said, adding funding and access to expertise could see each of them create up to 10 new jobs.
Further funding, to the tune of $130,000 annually for two years, was also sought to ensure the Gippsland Climate Change and Adaptation Project, focused on Gippsland as a food processing region, could advance its work.
"We are extremely concerned for our future and this is the process council will use now…to go to the ministerial council, that is ministers Simon Crean and Peter Ryan, to put forward our case towards influencing the future," Cr Vermeulen said.
The document said it was imperative each action was owned by a well-resourced agency, department or organisation and claimed the LVTC directions paper provided "no guidance" on these matters.