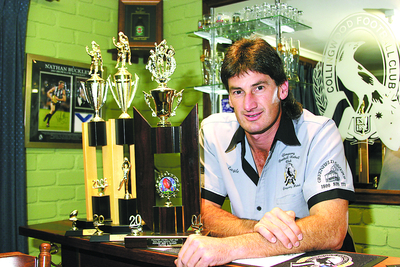 Glengarry Football Club's Trevor May will play his 400th club game this Sunday.
The 39-year old full-back played his first game with the Magpies in 1990 as a 17 year-old.
"I started out in the thirds and worked up to senior footy in a few years," May said.
Two years ago May clocked up 300 senior games, smashing the previous record of 259.
As a junior May played for Pax Hill Junior Football Club in Traralgon, but being "born and bred" in Glengarry said all he really wanted to do was play football with the Magpies.
He was also reluctant to discuss his injury run prior to his 400th game.
"When I played my 300th everyone was saying how lucky I'd been with injury, and the week after I did my medial ligament and missed the next 10 weeks," May said.
Some of May's career highlights include four senior grand finals for two premierships, the reserves premiership in 2011 and one thirds and three senior best and fairest awards.
As a truck driver, May said he worked "pretty hard" to ensure he made it to training and said he hoped to continue doing that next year.
"As long as the body holds up and I'm still giving something to the side, I'm looking to keep going next year," he said.
"And of course if the coaches will have me."
May said he had outlasted a lot of teammates, and it was the friendships he enjoyed most about football.
"The game has changed in the way that it is played, but the people involved in the club and the guys that you play with are the reason that you play each week," May said.
He also contributed significantly to the club off the field, holding committee positions including vice president.
This Sunday Gormandale will host the Magpies with the senior game kicking off at 2.15pm.