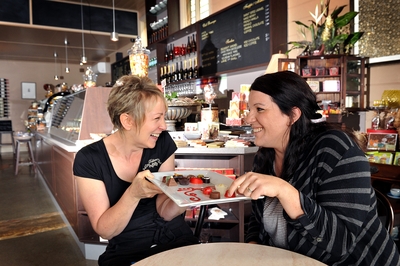 THE quiet, picturesque town of Mirboo North may seem an unlikely place to have a shop and cafe specialising in gourmet chocolates, but Dalliance Chocolaterie and Providore is flourishing.
The chocolate shop, which celebrated its second anniversary on Sunday, was the brainchild of longtime Mirboo North resident Kaye Henry.
"Mirboo North is such a beautiful town; we thought it would be nice to have a lovely in-between shop for tourists and commuters," Mrs Henry said.
"It's really taken off and surpassed our expectations.
"We started off selling chocolates, but thought it would be silly not to have coffees and other hot drinks; we now serve fresh, simple lunches and have just received our liquor license."
The little store along the main street has become popular among tourists and locals alike, who have intimate events such as birthdays in the shop, which seats about 50 at maximum capacity.
This weekend at Arty Gras, the shop will host an exclusive musical performance by Brian Baker and an indulgent chocolate supper with chocolate and ice cream.
When asked about the store's name and its cheeky connotation, Ms Henry explained: "Dalliance' means a secret meeting and hints at something naughty on the side; my girlfriend actually came up with the name and I thought it suited.
"People come here to indulge themselves with friends and family; it's a bit pricier here so they like to come here for a treat."
The shop is a family affair for Ms Henry, whose children have worked or are still working there.
Her husband Ivan, who Ms Henry described as a "fantastic barista", was also strongly involved in setting up the store.
The former nurse and community service worker is kept busy in the kitchen, and is often on the road sourcing delicious new offerings.
"Most of all, I enjoy working with customers; getting to offer them (what) makes them happy is just fantastic," she said.
Despite its exotic gourmet offerings such as geranium, ginger and grapefuit chocolates, Mrs Henry said the old fashioned chocolate frogs were the ones that flew off the shelves the fastest.
"They're part of people's childhoods, so it's a bit of a trip down memory lane for them when they have one," she said, adding the milk and dark chocolate frogs were most popular.
While the store does not yet offer their own handmade chocolates, Ms Henry said it carried brands such as Ganache from South Yarra, and Xocolatl Artisan Chocolates.
Chocolate lovers can expect to find Belgian chocolates, along with tempting offerings from France, Germany, Italy, Spain and the United Kingdom.
Beer, wine and cider lovers can also look forward to exotic offerings, including strawberry and Italian wines, mango beers and unique ciders.
"It would be a dream to expand," Mrs Henry said
"There's always something happening here.