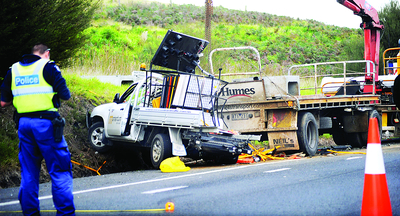 A WOMAN was airlifted to the Alfred Hospital in Melbourne with serious chest and abdominal injuries after the vehicle she was in was hit by a van along the Princes Freeway near Hernes Oak on Monday afternoon.
According to police, the woman was in a pilot vehicle parked behind a semi-trailer with a hoist on it, carrying contractors for VicRoads who were performing work in the emergency lane along the highway at 3pm.
The driver of a van was believed to have veered over to the west side of the road, striking the pilot vehicle from behind and causing it to hit the semi-trailer.
Two men working on the back of the vehicle were thrown off by the impact.
One of the men working on the vehicle was struck by a culvert and suffered minor head injuries.
Meanwhile, the driver of the furniture van was taken to Latrobe Regional Hospital with minor arm injuries.
Sergeant Mick Morris at the Moe Police Station said the flow of traffic was disrupted after the accident, with the Princes Freeway near the scene closed to one lane for nearly two hours.
"The matter is being investigated by (Latrobe) Highway Patrol with oversight from WorkSafe and VicRoads," Sgt Morris said, adding road conditions were good at the time of the accident and were not believed to be a contributing factor to the accident.
He urged witnesses to the accident to phone Latrobe Highway Patrol at the Moe Police Station on 5127 2222.