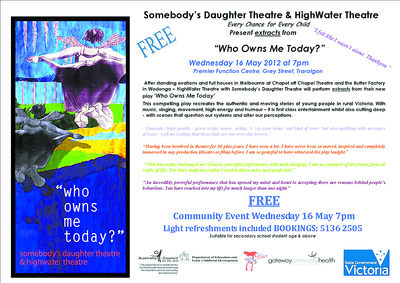 A COMPELLING play recreating the moving stories of at-risk young people in rural Victoria will be performed locally on Wednesday night.
The free community event, to be performed by a group of young people aged between 12 and 17 years who either are, or have been, homeless, will be held at Traralgon's Premier Function Centre in Grey Street on Wednesday from 7pm.
The award-winning production comes from a collaboration between Somebody's Daughter Theatre Company, Gateway Community Health and the Department of Education and Early Childhood Development.
It is performed by HighWater Theatre and has already played to full houses and standing ovations in Melbourne and Wodonga, according to a Berry Street spokesperson.
A local partnership effort by the Department of Human Services, Department of Health, Mental Health, Alcohol and Other Drugs, Berry Street, Vista and Quantum Support Services ensured the Wodonga-based performers would bring their show to the Latrobe Valley, the spokesperson said.
While in the Valley the group will run workshops with local young people also considered 'at-risk', who have experienced homelessness or are in Out of Home Care (OOHC).
Given Gippsland's figures of children in the OOHC system were, according to numerous reports, disproportionately high, it was hoped the workshops with young people, as well as a community sector workshop, would lead to a similar initiative in the Valley, the spokesperson said.
The community sector workshop will be also be held at the Premier Function Centre, Traralgon from 9am to 1pm on Thursday and will be open to those involved in the health, education, art, community service and private sectors.
This workshop will be based around a "creative model of engagement for young people at risk of isolation," the spokesperson said.
"The day also aims to take the learnings from HighWater to look at options for a cross-sector, sustainable approach to providing young people at risk in Gippsland with improved education, positive mental health and social inclusion," the spokesperson said.
HighWater Theatre is described as a "creatively led education program for young people outside of the mainstream school system".
The spokesperson said some of these people had missed years of schooling despite their young age and were in "precarious situations" predominantly related to "histories of abuse and family trauma".
The play, titled "Who owns me today?" includes music, movement and humour and the spokesperson said it was "far from amateur".
It will be opened by Child Safety Commissioner Bernie Geary OAM.
To attend the play or community sector workshop, register by phoning 5136 2505.