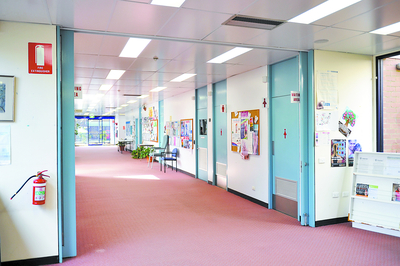 MOE's community health centre will soon be at the forefront of Victoria's medical education when the overhaul of its clinic is completed, according to community health executives.
More than two years in the making, Latrobe Community Health Services secured $6 million of Federal Government funding to redevelop its Moe centre, as well as $1.2 million from the State Government Regional Infrastructure Development Fund and Health Workforce Australia grant.
LCHS chief executive Ben Leigh said the aim of the upgrade was to develop a modern inter-professional health service clinic.
"What this means is that a service provider, rather than working in their silos, will be working in an inter-professional team on a range of issues," Mr Leigh said.
He said the facility had not been significantly renovated since the 1970s.
"The facility is beyond the end of its useful life; it is a rabbit warren and doesn't encourage staff to produce that inter-professional approach," Mr Leigh said.
"We do not have a particularly good health status in Latrobe Valley compared to the rest of Victoria.
"We have significant higher rates of heart disease, smoking and obesity; what we are hoping to do is improve the overall health of our community."
State of the art student training facilities and accommodation will be included in the works, which Mr Leigh said would attract health professionals.
"The configuration of the Moe development will allow us to bring students in from the universities to run student web clinics, under supervision; that way we can provide them with great learning opportunities in a rural environment," he said.
The student centre will include accommodation, as well as dedicated tutorial spaces and consulting areas linked by information communications technology.
"With client consent, groups of students will be able to observe a simulated service delivery," he said.
"It will be a magnificent learning centre for Moe, it will provide lots of opportunities and make Moe the centre for learning because we can connect with any university or tutorial in Victoria."
He said the improvements would increase student retention rates in regional Victoria.
"Professionals want to work together and work in an organisation that supports and provides opportunities, we are going to expose them to a rewarding rural life and involve them in research," he said.
The works will go out to tender in the coming months and the centre is expected to be completed by 2013.