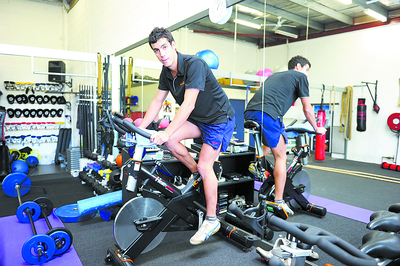 FITNESS enthusiasts and aspiring personal trainers can up their game next month, when a local expert will begin a program from the Australian Institute of Personal Trainers.
Traralgon-based personal trainer Andrew Crozier said the 12-month fast-track program, which will begin on 22 June, was a step up from online-based courses.
"You come to the gym for hands-on learning instead of just reading about how to do squats online," Mr Crozier said.
"The course will include 60 hours or eight weeks of practical learning as well as assignments."
The program offered by Mr Crozier is thought to be the only one locally, from Warragul to Bairnsdale.
"Right now, most of the trainers in Gippsland are all on the same level; to get better, the industry level needs to go up," he said.
"I expect the target market will be body builders, people who are motivated by fitness, and year 11 and 12 students who want to become career personal trainers."
Mr Crozier said the classes would take place after hours and on weekends and cost about $4000.
"I've already had interest from guys in the industry, who are looking forward to upskilling," he said, adding he hoped to attract up to 20 students.
The program from AIPT will provide students practical knowledge in anatomy, physiology, fitness, nutrition and lifestyle, sales and marketing, and assist them in finding employment in the industry or start their own business in the community.
Mr Crozier said he will be holding a career and fitness information night at his spin studio in Queens Parade, Traralgon from 6.30pm on 5 June for those interested in undergoing the course.
For more information about the course, phone 1300 13 8434 or visit www.aipt.com.au