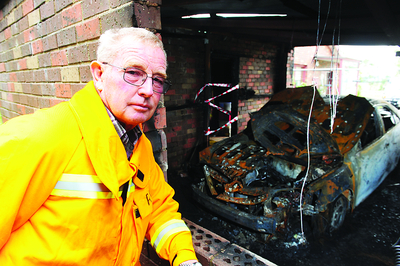 AN elderly couple are praising good samaritan Rob Raymond for saving them from their burning property.
Mr Raymond's 7am morning drive to work was interrupted on Monday when he noticed flames and smoke coming from Dave and Joan Osborn's garage in Hazelwood North.
"Anyone who was in that position would have done the same thing," Mr Raymond said.
But within seconds of spotting the fire, Mr Raymond said the entire garage was engulfed in flames.
"I went to their front door and knocked as loud as I could to wake (Dave and Joan) up," he said.
"They were a bit annoyed at first, they ran out and I told them what was going on."
Passerby Tony McCluskey also helped Mr Raymond and the Osborns retrieve their personal items as the fire neared the house.
"They were trying to get whatever they could, pot plants, cats, photographs off the walls and at this stage the house was starting to fill with smoke," he said.
"The fire looked like it was entering the roof, thank God the wind was going away from the house or it would have been really bad.
"Then Dave went to the shed and pulled out a horse float, right next to the flames."
Investigation into the cause of the fire determined rats had affected the wires in a freezer stored in the garage.
Quick response by Traralgon South, Churchill and Hazelwood North fire brigades stopped the blaze, which gutted the Osborn's garage, shed and spread to the back porch.
Hazelwood North Captain Ray Beaton said without the efforts of Mr Raymond, the firefighters may not have attended in time and the situation could have been "much worse".
Dave and Joan Osborn hailed Mr Beaton a hero.
"I would sincerely like to thank him, half a minute longer it would have been in the house and we could have been cooked," Mrs Osborn said.
"We were extremely lucky, the flames were so fierce."