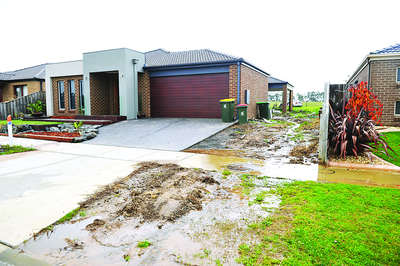 RAINFALL in Gippsland this week has exposed a lack of appropriate drainage near residential dwellings.
State Emergency Service personnel received more than 60 house calls in 12 hours from Trarlagon's Erin Park Estate alone, after drains were unable to hold the excess water.
With some areas receiving more than 100 millimetres of rain in the last few days, Kilkenny Close resident Amanda Hanning and her neighbours spent Monday night sandbagging.
"The area floods like a river when it rains… the footpath itself has water that's ankle deep," Ms Hanning said.
"It's just frustrating because you assume when you buy property it comes with correct drainage."
Latrobe City Council has previously received calls from residents, urging them to install proper drainage across the Valley.
The issue was raised at a council meeting this week, with residents from Moe and Traralgon complaining of damage to properties and increases to home insurance as a result of an inadequate drainage system.
An Austin Avenue, Moe resident told council he incurred $4000 in flood damage to his property, adding if council established bigger drains, "we wouldn't have this problem".
Another resident said her toilets and sinks were "bubbling" each time the area received a large amount of rain.
While the issue of adequate drainage system in Kilkenny Close, Traralgon was discussed by council this week, the meeting was closed to the public.
However, Latrobe City Mayor Ed Vermeulen acknowledged "some of the drains (in Latrobe Valley) needed to be looked at in terms of size".
"It may not be a problem that is easy to solve," Cr Vermeulen said.
"But we are on to it and we are going to do something about it, as soon as possible."
Hazelwood North resident Patricia McIntosh expressed her frustration with VicRoads, saying it had been two years since she had first put in a request to assess the drains outside her property on Monash Way.
"We put in a request to VicRoads after we moved in because my daughter is allergic to mosquito bites, and they breed in the clogged drains in front of our house," Ms McIntosh said.
"I think half the problem (of the flooded stretch of road) is the drains aren't cleaned out, so the water has nowhere to go."
VicRoads acting regional director eastern region, David Gellion said VicRoads would assess impacts to road infrastructure when floodwaters recede and when it was safe for staff to do so.