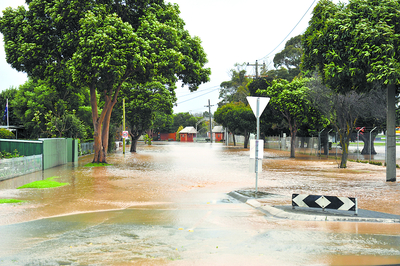 LATROBE City Council is expecting the cost of cleaning up after last week's flood damage to run into "hundreds of thousands of dollars" although it has yet to conduct an official assessment.
Latrobe City Council general manager recreation, culture and community infrastructure Grantley Switzer said it was "too early to put a figure on the dollar amount of damage to council infrastructure" at this stage.
"Once known, we will assess what works may be funded through insurance of both council and those organisations impacted; however, there is no doubt that council will be looking for financial support from the State Government under their Natural Disaster Relief funding program," Mr Switzer said.
Several key community assets such as the Traralgon Recreation Reserve, Traralgon Tennis Complex, Agnes Brereton Reserve and Harold Preston Reserve in Traralgon and Crinigan Road South Reserve in Morwell were hit hard by the floods.
Mr Switzer said in terms of building damage, flooding was restricted to the Traralgon Recreation Reserve although the Traralgon Football Club pavilion and social club, the Traralgon Men's Shed, the Traralgon Bridge Club and a large number of agricultural society buildings also suffered significant water damage.
He said another main area of concern was the recently-upgraded Traralgon Tennis Complex.
"The new plexicushion and plexipave surfaces are currently being cleaned in the hope that significant damage hasn't been caused," Mr Switzer said.
"We do know however that the surfaces of the two new clay courts have been completely washed away and are unusable."
He said in terms of playing fields and reserves, infrastructure such as fences, car parks and goal posts had also undergone some damage.
"The surfaces have taken an obvious pounding and we are assessing on a daily basis but it is possible that these reserves may not be able to be used for a period of time," Mr Switzer said.
He said at present, council's outdoor staff were focusing on ensuring the safety of roads and reserves.
"Our roads team will be undertaking investigations on road surfaces, bridges, key drainage infrastructure and culverts," he said.
"We have also experienced a number of land slips throughout the municipality and the works associated with remediation of these slips is often time consuming and expensive."