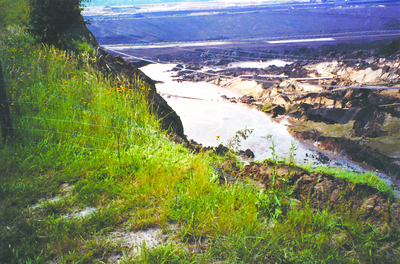 For a number of Latrobe Valley residents, the Morwell River's collapse into the Yallourn open cut coal mine has been a strong dose of 'deja vu'.
From an outsider's perspective, comparisons to a 2007 landslip which caused the Latrobe River to flood into the Yallourn mine for six days, have been unavoidable.
But for the now-retired Yallourn North dairy farmer, Graeme Cook, who had the Latrobe River re-routed through his property after the 2007 collapse, there is no comparison.
"When I heard, I thought thank God it wasn't the Latrobe," Mr Cook said last week.
The farmer also spoke to The Express last year about the perils of mining operations among agricultural land, recollecting his experience of the 2007 collapse with vivid detail.
In the days preceeding the landslip, Mr Cook said he noticed inspectors, who he said were denying the likelihood of a slip, surveying the northern coal face wall.
"They said to me 'of course it will never happen, it'll never give way'," Mr Cook said.
However the very evening before the landslip, Mr Cook said he received a phone call from the Yallourn mine manager, who wanted to arrange a meeting the next morning, the details of which were unclear.
The open cut north face collapsed around 2am the following morning, sending six million cubic metres of earth through two conveyor belts and a mining road.
"The mine manager and power station manager came in at 10am. So we sit down at the table, and they say the mine slip has happened and this is what we want to do," Mr Cook said.
Power station and mine operator TRUenergy sent teams of excavation equipment through Mr Cook's property to reroute the Latrobe River, with digging beginning early that afternoon.
"Holy hell; it was just full on. It was non-stop 24-seven. They had lighting towers everywhere," Mr Cook said.
"I couldn't sleep for two nights because of the noise; it was unbelievable, because it was lit up like Luna Park."
Within six days, water was flowing through the re-routed section of the Latrobe River, to which Mr Cook had lost 20 acres of grazing land.
A reduction in the property's flood plain capacity on the land has also increased the frequency and duration of floods.
While Mr Cook was officially recognised for his assistance and patience during the week-long ordeal and awarded two semi-trailer loads of hay by TRUenergy, he said he wasn't adequately compensated for loss of land.
"I wasn't happy with their original price, so then I got an assessment of my own, and it was approximately double theirs; we settled roughly in the middle," Mr Cook said.
TRUenergy spokesperson Carl Kitchen said the company was "surprised" Mr Cook was not satisfied with his remuneration.
"We reached an amicable settlement with Mr Cook. The price was mutually agreed and in excess of an independent evaluation and the settlement was also recommended by his lawyers," Mr Kitchen said last year.
But Mr Cook said in hindsight, he wished he had settled on a price before the works went ahead, and warned other farmers not to "rush into things" in similar situations.
"I rushed in (to a decision) within an hour that morning. I did what I thought at the time was the right thing to do – the state's power supply was at risk …but it took two years to settle the price," Mr Cook said.
"I don't like the aspect of mining overriding everything; there's enough houses going up putting us farmers out of it, without even considering mining.
"There's something about land; when you live on it all your life, you've got a link to it; you may as well drain your blood otherwise."
As teams of engineers, mining staff and contractors continue to get coal supply conveyor belts back online, this week Mr Cook said the familiar hum of operating conveyor belts had been replaced by distant sounds excavation and dump truck activity.
Having experienced the response efforts in 2007 first hand, Mr Cook spared a thought for the current crews working round-the-clock in the open coal mine below his property.
"The pressure I was under personally round the clock for those six days (in 2007) was immense, so the engineers and inspectors who are responsible for responding to this, I really feel for them," he said last week.
"With the scale of the task on their hands I can only imagine the pressure they must be under this time around. But you just wonder in hindsight whether they should've gone ahead with that diversion."