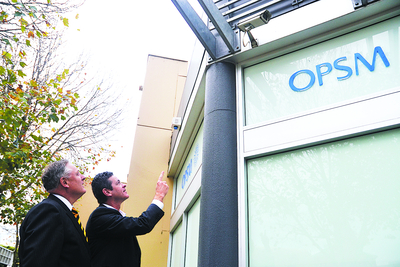 TRARALGON is set to receive additional safety and security infrastructure around the central business district to deter crime in the area.
State Crime Prevention Minister Andrew McIntosh was in the Latrobe Valley last week to announce $117,000 for the installation of eight closed circuit television cameras in Traralgon.
With two cameras already in placed near the CBD taxi rank, Victoria Police Leading Senior Constable Brett Godden said an added boost to security was always welcome.
"Anything that enhances community safety is always a good thing," Ldg Snr Const Godden said.
"We're always going to have some folks who look at it as another 'big brother', but I think the majority of the community will welcome the safety aspect of it."
With the specific locations of the cameras yet to be finalised, Latrobe City community development manager Steve Tong said it was likely the cameras would be positioned near nightclubs and other areas advised by Victoria Police.
Mr McIntosh said the funding, which falls under the government's Public Safety Infrastructure Fund, would assist in "nipping crime in the bud".
"When an area has incidents of crime and anti-social behaviour, it discourages people from going to the area," Mr McIntosh said.
"The footage will be monitored by Victoria Police… this type of camera is regularly used for identification of suspects."
State Member for Morwell Russell Northe, who was with the minister, said the initiative had been pushed by the community for "a long time".
The application for the funding was put forward by Latrobe City Council who will take on the responsibility of buying, installing and maintaining the cameras.