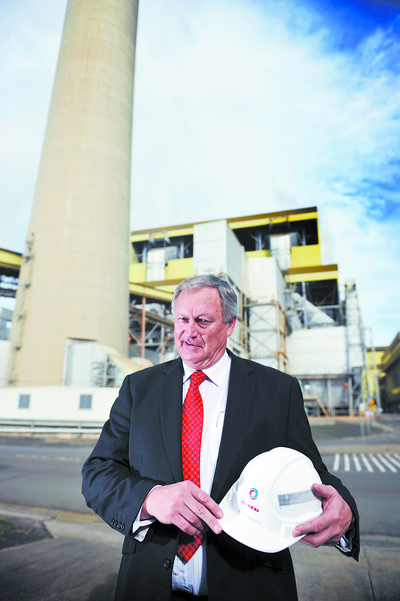 WHEN Ian Nethercote started out as a junior engineer in the local power industry many years ago, he could not have predicted the stellar career that was to come.
This month Mr Nethercote's role as chief executive of the state's largest power station, and the largest producing brown coal mine in the southern hemisphere, will come to an end.
He has occupied the position for 13 years, rising through the former State Electricity Commission Victoria ranks first as an engineer during the commissioning of stage one at Yallourn W station, later as part of Latrobe Valley-wide maintenance activities, followed by a stint in Indonesia on a SECV project before playing a key role in the design of the National Electricity Market.
When The Express put it to Mr Nethercote he would now know the local power industry inside out, in his usual understated style he replied, "I have a reasonable understanding of it".
It is an understanding no doubt honed through years of navigating Loy Yang A, a 2200 megawatt power station providing about one third of Victoria's energy needs, through challenging, and often, uncharted waters.
Rapid changes arising from a deregulated electricity market, unpredictable market behaviour, lower than anticipated electricity retail prices, and more recently a looming carbon tax and a softening of demand, conspired to ensure managing a baseload power generator was no walk in the park.
Under a cloud of accumulating debt and uncertain refinancing options, Mr Nethercote was often the public face of a wider power industry battle to offset some of those challenges.
On more than one occasion he has also been in the unenviable position of leading a damage control campaign, despite media speculation that a debt-ridden Loy Yang faced closure.
Suggest to Mr Nethercote, however, that vacating his long-held position might bring with it a "touch of relief" he maintained its was those very challenges that have sustained him over the years.
Whether lobbying to secure his company's future or conducting public forums about its operations, Mr Nethercote earned a reputation for his refreshing honesty.
"I have always been upfront and spoken my mind," he said.
"If you actually do believe something and you say it, it will probably be respected.
"It may not be right or comply with everyone else's thoughts but, from my point of view, I think I have been pretty fair."
When The Express proposed his expertise would be sorely missed at Loy Yang A, Mr Nethercote was quick to insist a talented team of experts would remain on-site and his time at the helm of LYP had been far from a "one man band".
He would, however, admit to taking pride in a number of key achievements, not the least of which he said was an "exceptional" plant performance over the past decade evidenced by availability levels "well over 90 per cent and coal supply reliability of 99.5 per cent more higher".
Those figures put the generator in "the top five per cent in the world", he said.
To that end, Mr Nethercote described the timing of his departure, prompted by an impending take-over of LYP by AGL Energy by the end of June, as "probably appropriate".
Overseeing a plant upgrade, adding "another couple of hundred megawatt to output without having to modify boiler constructions too much", setting new maintenance regime benchmarks, winning high levels of coal, negotiating the NEM and surviving "tight financial times", were all accomplishments of which Mr Nethercote was proud.
"This company has held its head high in terms of its standing in the community," he also said, of a business which directly employs almost 600, mostly local, people.
Mr Nethercote has long been active in the Valley community, particularly in pursuing his passion for local education and skills opportunities, most recently through an appointment to the Gippsland Tertiary Education Council.
On-site he is not one to hibernate in his office.
"Sitting in the office is probably not my forte," he said, adding he would most miss "the discussion, the ability to wander around the plant and talk to people who are actually doing the work, and understand the issues they face and how I might be able to contribute to change".
Despite years of long hours and executive pressures, Mr Nethercote expressed no concern about how he would occupy his time in the immediate future, agreeing he was unlikely to head off fishing.
"I won't get up in the morning wondering what I'm going to do," he assured The Express.
"I have plenty of things that need to be done and I still have a lot of unfinished activities I need to work through".
He also intends to remain active in his various community roles.
It's clear the events of the past week have been emotional ones for Mr Nethercote but, at the same time, he said the outcome, a result of the approaching AGL-led amalgamation, came as "no surprise".
Reflecting on what has motivated him all these years, Mr Nethercote shared his guiding philosophy that "the things we do today are for those who follow, not just for the people who are here now".