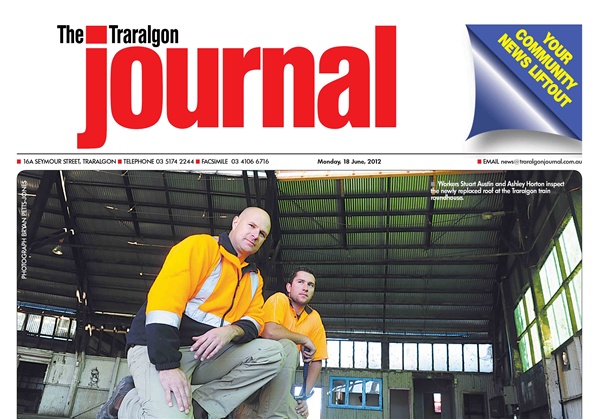 UPGRADES to the historic Traralgon railway precinct have been completed, and it could soon open its doors to the community.
Renovations to the Traralgon roundhouse on Queens Parade were completed last week, after VicTrack commissioned $113,000 worth of restoration works at the precinct.
A heritage listed site, the roundhouse was built in 1902 and is one of two roundhouses left in Victoria. During a visit to the site last week, parliamentary secretary for transport Edward O'Donohue and State Member for Morwell Russell Northe said the Traralgon roundhouse was an "important piece of Gippsland history".
"The Traralgon roundhouse is an outstanding part of the region's industrial and social history," Mr O'Donohue said.
"Victoria has a great history with railway architecture and it is important for the government to invest in such historical pieces.
"Not only does it provide an aesthetic facelift, but puts in place important safety measures as well."
Following the renovations the roundhouse now has a new roof, gutters and downpipes, while fire-damaged sections of the building have also been replaced.
While the area is currently closed to the public, Mr Northe said he would be happy to discuss the opening of the site for public viewing, so the "community can see the precinct as it was in its former glory".
The turntable at the roundhouse is still used to assist trains in changing direction, while the roundhouse itself was previously used to house goods trains travelling between Gippsland and Melbourne.
"(The roundhouse) played a very active part in its early days," Mr Northe said.
"While over time things have evolved and it may not have a real practical purpose, it is important to the Gippsland community."
V/Line Gippsland regional manager Tim Pianta said the restoration works, which took about two months to complete, would ensure the facility remained intact for many years to come.
The project was funded under the VicTrack heritage program, which restores state heritage-listed rail building assets, mainly in regional Victoria.