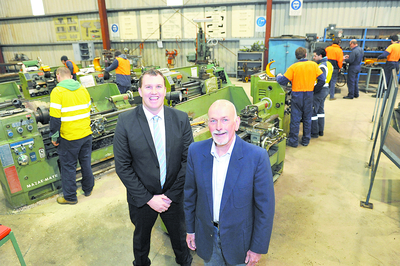 DESPITE the uncertain economic conditions in the Latrobe Valley, as well as the recent loss of a Federal Government contract, Apprenticeships Group Australia is "not walking away" from the region.
Speaking to The Express recently, AGA outgoing managing director Kevin Kennedy and new managing director Mark Knox reiterated their commitment to the area.
"We were set up to make jobs for disadvantaged young people, and while we have grown bigger, we have our roots here," Mr Kennedy, who recently retired after nearly 29 years with the company, said.
"We could easily walk away but we won't; we are part of the community and want the community to be part of us."
Mr Knox, who came on board in his new role earlier this month, said the company was an integral part of the community, and would continue to have its corporate headquarters based in Morwell.
Mr Knox said AGA was looking at training its apprentices in new and emerging skills areas, in line with the changing needs of local industry.
"In the next 20 to 30 years, we know there will be a strong demand for community services and health in the local area, given the ageing population, we will explore these opportunities in Gippsland," he said.
Mr Kennedy said the company was also looking at opportunities for "advanced forms of training" for its apprentices, such as engineering design and utilising its links with Monash University.
AGA's top priority at the moment was finding employment for its apprentices, Mr Knox said.
About two months ago, it was announced some 30 Gippsland apprentices had been stood down after they could not secure placements for three months or more; since then, nearly 10 have been re-engaged.
Currently AGA has about 40 unplaced apprentices in the Latrobe Valley. However, help has come from the state, with a $300,000 government announcement, offering employers $4000 in assistance per apprentice.
"The training funding announcement to help apprentices be trained and ready for employment has helped put us on par with the funding arrangements TAFEs receive," Mr Kennedy said.
However, both men acknowledged business activity had slowed in the Latrobe Valley, due largely to "a lack of confidence" in the area, especially in the building and construction sectors.
"Business is good for AGA in Melbourne, as well as east and south Gippsland; this seems to be a Latrobe Valley issue," Mr Kennedy said.
"People here don't have the work they once had; there's a bit of despair among some businesses."
Mr Knox said the company presently had 160 "host employers", compared to about 200 at Christmas time last year.
"Our commitment to pay our apprentices while they are without a placement, and ours being a high-volume and low-margin business was a drain financially which has severely impacted our business," he said.
"Now, more than ever, we need to engage with our host employers as we work through increasingly challenging times. But we still have optimism in Gippsland; while the last 12 months have been challenging, we hope for bigger and brighter things into the future."