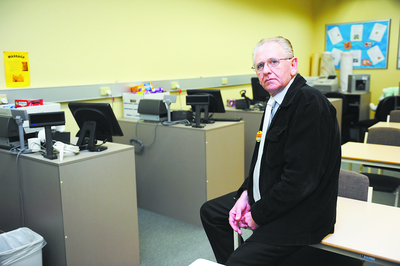 WHAT was once a classroom filled with business students at Central Gippsland Institute of TAFE now stands empty.
GippsTAFE shut its doors to its retail division at its Morwell campus last week, and team leader of delivery Terry Sumner believes the institute will face further challenges down the road.
Mr Sumner, who had worn a 'Save our TAFE' button on his coat, spoke to The Express about the impact of the State Government's recent multi-million dollar budget cuts on his colleagues and students.
"It's pretty dire and upsetting… the retail department closed (last Thursday); it's the first hit I've had personally," Mr Sumner said.
"All our staff are nervous… no-one is safe and everyone's walking on eggshells.
"It's a horrible time to have to (lay off) somebody with seven years of service; it's not something you look forward to.
"One of our full-time retail teachers who finished up recently purchased a house."
With 18 retail students affected and three staff members now hunting for new jobs, Mr Sumner remained "hopeful" his job would withstand the severity of the cuts.
As of today, the retail course was deemed no longer "viable" by GippsTAFE, with currently enrolled students expected to submit their remaining course work within the next three weeks.
Mr Sumner and other remaining staff members will take on additional responsibilities as a result of the changes to ensure student support remained.
According to Mr Sumner, the institute was looking at "other avenues" to enable students to finish their course, including using the support of the institute's retail pharmacy division at its Warragul campus.
He said the program had previously offered "positive outcomes" for students, with many mature-aged students returning to the workforce.
"Single parents who don't have qualifications want to take up courses in retail or hospitality so they can get back into the workforce; all these areas are now under threat," he said.
"The opportunity to study or to up-skill their qualification for these people are now gone and they're going to be left high and dry."
Mr Sumner hoped local industries would support TAFEs in their fight with the government to reinstate funding.
"Unless we get the message out there, things aren't going to get better," he said.
"It hurts to let people go… especially when they've done nothing wrong."