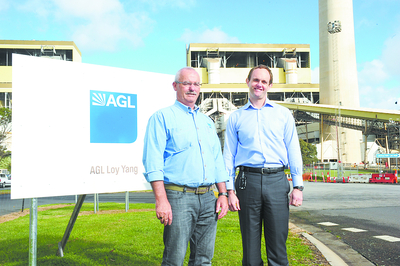 THE new owners of Loy Yang A are supportive of a price on carbon, saying the levy would provide an incentive to reduce emissions.
In its first meeting with local media on Monday, AGL Energy's energy group general manager, merchant energy Anthony Fowler said the company would continue to participate actively in the carbon debate.
"We have a view that a carbon price is the right thing for Australia to help transition us towards a cleaner energy future, and the tender to close is a helpful mechanism to take some big steps towards that," Mr Fowler said.
"AGL considers itself the leading low-emissions generator in Australia with our wind and gas portfolio.
"We think we are well qualified to work with all the clever engineers at Loy Yang to find ways to reduce that carbon footprint and increase the efficiency of the power station," Mr Fowler said.
With regard to the carbon price, which came into effect on 1 July, Mr Fowler said Loy Yang's role would be even more crucial if one of the other Latrobe Valley power stations participated in the 'contract for closure' program.
"At the moment, it provides about 30 per cent of Victoria's electricity needs and is very important in the context of providing reliable energy supply," he said.
"One of the advantages of being a brown coal generator is that it's immune to some of the fuel cost pressures black coal and gas are now exposed to; in the backyard here, it's pretty much close to free and a strategic opportunity for AGL to access a low-cost fuel source which is immune to global price pressure."
He said the estimated cost of the carbon price to AGL would be $450 million a year, but as part of an agreement with the Federal Government, half of this amount would be covered through transitional payments.
"The rest is substantially recovered through wholesale electricity market prices; electricity prices today is somewhat higher than Friday prior to the carbon price coming along," he said.
Despite the vertical integration following its acquisition of Loy Yang A, Mr Fowler said AGL was not in the position to influence household electricity prices.
"Victoria is the most competitive consumer electricity market in the world; the dominant effect on the market is competition, and AGL is not in the position to influence that with its ownership of Loy Yang," he said.
"There shouldn't be a link between the way we operate Loy Yang and the price for the end consumer."
Last month, The Age reported across Victoria's five distribution areas, AGL residential electricity bills will rise by between 12.8 and 14.8 per cent.
On Monday, AGL joined the likes of General Electric and Westpac who defended their endorsement of the controversial carbon tax.