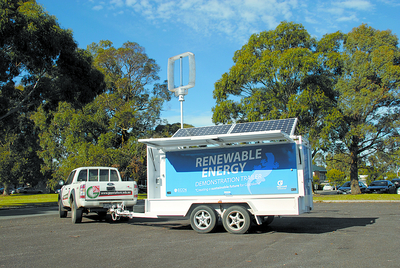 A RENEWABLE energy education program has officially been launched in the heart of the brown coal region, the Latrobe Valley.
Costing more than $50,000 and 18 months in the making, GippsTAFE and the Gippsland Climate Change Network recently launched the Renewable Energy Demonstration Trailer.
The state-of-the art education trailer was developed to tour local communities to increase awareness about renewable energy technology.
Coordinator Ian Southall and his travelling trailer, will tour the "breadth and width" of Victoria, in a bid to increase people's understanding of renewable energy technology through interactive demonstrations.
"While we are underpinned by our great natural resources, there is an opportunity here to demonstrate products, applications and technology," Mr Southall said.
During a trial period over the past six months, the trailer has engaged more than 1200 people including students, businesses and council representatives.
Mr Southall said the aim was to educate people on energy efficiency and energy saving tools, as well as training opportunities in sustainability through GippsTAFE.
"Through the trailer, we can give an education message; GippsTAFE can take advantage of (this) and use in the training and trades area," Mr Southall said.
The interactive features include solar panels, wind turbine, solar hot water system and a small hydro-turbine which runs electronic devices including television, gaming systems and laptop.
However, despite overwhelming support from surrounding councils, farmers, state schools and businesses, Latrobe City is yet to welcome the program and its message.
"But that is what this is about, to heighten peoples' understanding of renewable energy," GippsTAFE technical programs team leader Jackson Long said.
"It brings the technology to the people, to actually have it bought out to state schools or to field days, (people) can go see the trailer as a one-stop shop."
The official launch of the program coincided with the introduction of the carbon tax, which Mr Long said was the driving force behind the initiative.
"With everything going on around the Valley and Gippsland with the carbon tax, we decided to develop the trailer to broaden people's knowledge within the community," he said.
Sustainable energy-oriented businesses have showed their support for the program, which has enabled upgrades to the most modern technology on the market.
GippsTAFE is hoping to target the Federal Government's new sustainable energy education and training grants.
For more information on the Renewable Energy Demonstration Trailer visit www.gippstafe.vic.edu.au/business_industry/redt