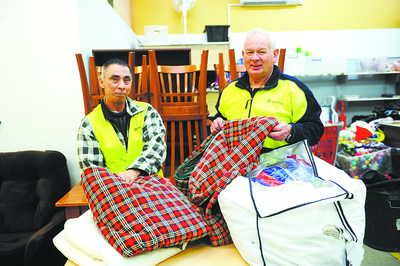 SEVEN years ago, Morwell's Jim Hartley decided to make the best of retirement, by joining hands with a national not-for-profit organisation.
Mr Hartley began volunteering at Morwell's St Vincent de Paul store, joining his wife, who has also been one of the smiling faces at the store counter for the past 10 years.
For Mr Hartley, the joys of giving back to his own community have outnumbered any retirement activity he could have undertaken.
"I thoroughly enjoy it; we deal with pickup of goods and welfare services and the welfare part is most satisfying," Mr Hartley said.
"There's just a tremendous amount of satisfaction in giving things to people they previously couldn't have.
"Sometimes there are times when you may not always have the things they need… but that smile on their face when you can give it to them is most satisfying."
With fond memories spanning the past seven years, Mr Hartley recalled a story involving a little boy.
On his usual rounds to deliver goods to people, Mr Hartley and a fellow volunteer had dropped off a bed for a young family.
On seeing his bed, the young boy ran up to Mr Hartley and thanked him in his boyish way, giving him a "high five" to show his gratitude.
This memory has stuck with Mr Hartley ever since, who described seeing the look on the young boy's face as "something I'll never forget".
"Between the comradeship and satisfaction you get out of doing welfare and seeing the smile on people's faces; it really makes it worth it," he said.
"All the years I've been there, we've had some great teams and formed some great friendships."
While a life devoted to the community and what would seem "ideal" for the elderly volunteer, he said he only hoped his health would enable him to continue volunteering for years to come.
"I would definitely recommend volunteering to others," Mr Hartley said.
"You get many laughs, comradeship and it really is satisfying helping people in need.
"We all work together; it's a job you enjoy coming to… and I have no regrets."