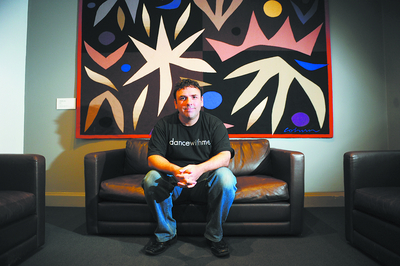 SURROUNDED by paintings and sculptures, Dan Clancey is in his element as he looks back on his involvement with the Gippsland community.
A popular personality in Latrobe Valley's art family, Mr Clancey's recent endeavours to get the community engaged in dance and theatrics has been one of his biggest milestones to date.
With dance flash mobs springing up in different towns and similar community projects connecting different residents, Mr Clancy reflected on his decision behind becoming a "community artist".
"Each artist has his or her own field; my work is with the community, whether it's through video or audio," Mr Clancey said.
"I find when you listen to someone else's story and recount them, there's a certain amount of trust and gut to it; you feel close to the person."
Describing himself as "not a desk person", Mr Clancey said there was no "specific point" in his life, when he decided to pursue the arts, specifically video production and theatre.
"I was never really good at sports and my parents recognised that and sent me to drama classes when I was 12 or 13 (years old)," he said.
"So I was involved at a very young age… and that brought balance into my life; something I didn't previously have.
"So I studied film and photography, but I also did some community projects on the side and found that I really enjoyed that aspect of it, so I did more courses and training in that."
While Mr Clancey said he was "lucky" not have "really struggled" to get where he is, he acknowledged his wife as the reason behind his "freedom to do the kind of work I want".
A drama enthusiast herself, Mr Clancey said his wife and himself shared the same passion, something they have now passed on to their two young daughters.
With a busy schedule involving liasing with other artists to produce projects like The Janus Project, a production on bushfire-affected residents, Mr Clancey said he could not have asked for a more "fulfilling" life.
While there were challenges to produce projects that balanced aesthetic qualities and community inclusion, the artist described his passion and career as a driving force behind "creating change".
"All I do is provide the art format… and it's up to the people to share their voice; it's not my viewpoint," Mr Clancey said.
"My goal is to make sure I stay fresh and creative in everything I do.
"I love working with other artists and I want to collaborate and partner with different people to keep my work fresh and exciting."